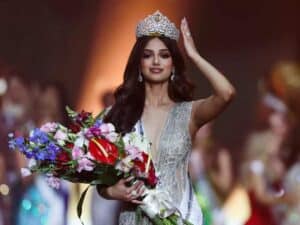 After 21 years, Harnaaz Sandhu from India wins the title of Miss Universe. Sandhu was born in Chandigarh in the year 2000, the year when Priyanka Chopra was crowned as Miss World. A model turned actress, represented Chandigarh at Miss Diva 2021 at Hyatt Regency Hotel, Mumbai. Before this, she won the title Miss Chandigarh in 2017. In 2021, she has been featured in Punjabi films like, " Yaara Diyan Poo Baran" and " Bai Ji Kuttange".
Her never-giving-up attitude came up from her mother, who is a gynecologist and led her family. The strong-headed woman is an advocate of woman empowerment and believes that woman's health and hygiene is of utmost importance. She is currently doing her Masters degree in Public Administration from Postgraduate Government College (PGC) for Girls, Sector-42, Chandigarh
During her school days, she is described as a hard-working student, who pro-actively participated in co-curricular activities. She has won many competitions in skit festivals. According to Harnaaz's college principal, she is a hard-working girl. During her stint in Miss Universe, Sandhu has often mentioned that one should not give up on their passions and dreams for making career choices.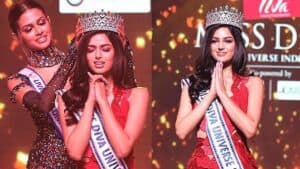 Her principal describes her as a diligent and sincere student, who was inclined towards theatre. She has won many awards in mimicry and skit competitions in youth festivals. The institute never gave her any special treatment due to her participation in such competitions. Despite her traveling and participating around the world, she has been actively studying during her online lectures. Besides, the department professors are always in touch with her, as informed by her college principal.
As a part of the highest three-round, the contestants were asked, "What advice would you give to young women watching on the way to affect the pressures they face today"
To this, Harnaaz said, "The biggest pressure the youth of today is facing, is to believe themselves. To know that you simply are unique causes you to be beautiful. Stop comparing yourselves with others and let's mention more important things that are happening worldwide. Come out, represent yourself, because you're the leader of your life. You are the voice of your own. I believed in myself which is why I'm standing here today."
Apart from the historic win, Harnaaz has won Miss Fresh Face 2017, Miss India World 2020, Miss India Universe, Miss Max Emerging Star 2018, Fabb Colors Femina Miss India Punjab 2019.