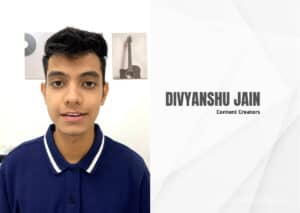 What kind of content do you watch on Instagram when scrolling aimlessly for hours? Some random dance reels on current hit songs? Why not put that time to good use by watching content which is both enjoyable and educational about finance? Sounds interesting isn't it? Divyanshu Jain is one such Instagram Content Creator who talks about uncommon facts and concepts of finance.
Divyanshu Jain is a driven entrepreneur who assists others in growing their businesses while also promoting financial literacy through content development. His goal is to be your financial guide, so he makes sure his reels are as simple to follow as possible.
From Adnani airport to HCL stocks, he has created content on almost all the necessary stocks. He offers informative material about finance, investment, money management, and money psychology on his instagram page. His reels are both educational and engaging. So, make sure to read the captions as well because they contain a plethora of information.
Whose journey goes without struggle? No one's right? On the same note, Divyanshu Jain, a skilled professional investment analyst, faced depression after losing $50,000. In conversation with him, he reveals how the loss of dollars brought him to his knees and created major self-esteem issues, but defeating his struggles he somehow managed to get back on his feet. And now, known among top financial instagram creator's.
Payal: Hello Divyanshu Jain, kindly brief yourself to the audience.
Divyanshu: Hello Payal,my name is Divyanshu Jain. I am a content creator on Instagram with over 40,000+ followers and 50 million views. I create content in the areas of finance, startups, case studies, and marketing. My motive behind creating a finance instagram page is to simplify everyday finance and create content around business stories, case studies and personal finance. Basically my content will help you understand, save and make money. I think everyone should check out my Instagram account and show some love. My instagram handle is @divyanshu.jain. Touch wood, I have a huge following of 40,000+ people.
Payal: A lesson you learned in your twenties.
 Divyanshu:
Prior to investing in stocks or cryptocurrency, focus on investing in yourself by taking field-related courses and daily upskilling.
Second, begin saving money as soon as you receive your first paycheck; by saving, I mean learning how to invest in the stock market.
Payal:  What comes to your mind as a starting point for your content creation journey?
Divyanshu: To convey financial knowledge in simple language. Educating young people about the importance of investing and explaining financial terms such as debt, equity, stocks, mutual funds, and cryptocurrency. In simpler terms, I try to provide an insight of the stock market through my content. So that Indians can get a basic idea where and when to invest their money.
Payal: So Divyanshu, what was your state of mind before starting the content creation?
Divyanshu: I was regularly learning and taking courses on investing and trading in stock markets, and I discovered along the way that the people around me, such as my friends and family relatives, didn't know much about the stock market but regularly discussed which stocks to buy like a professional, so I decided to begin my content creation journey and ensure that financial literacy was spread.
Payal: What are your professional accomplishments?
 Divyanshu:
My first accomplishment was reaching the milestone of 90 lakh+ views on a REEL on investing in the BOAT Company; the video went viral and was shared by co-founder and Shark Tank Judge AMAN GUPTA. I also received over 3 lakh+ likes.
The second accomplishment was effectively establishing a community of learners on Instagram, where I was even followed by industry professionals such as Neha Nagar Ma'am, who has over 900k followers.
Payal: Tell us about the most difficult and inspiring time in your journey.
Divyanshu: Let's talk about my failure, which I eventually turned into my strength. The story begins with losing almost $50,000 in the stock market and facing depression and self-doubt, but I never gave up because of my learning mindset. While pursuing my degree, I began working as a freelancer and doing part-time sales-related tasks to supplement my income. I eventually began investing in strong fundamental courses and consuming high-quality stock market content, which helped me a path to follow.
Read More: KRITIKA YADAV, CFP (USA) – The Successful Investor, At The Top
Payal: How do you see yourself in 7 years?
Divyanshu: I'm not sure about 7 years, but one thing is certain: I will continue to educate people about money and spreading financial literacy.
And here is my mantra for the future:
-Imagine a DREAM with a DATE attached to it and make it a GOAL. The GOAL should be converted into STAGES to make it a PLAN. Make that PLAN become REALITY with the help of your ACTIONS.
Hence proving; that DREAM = REALITY.
Payal:  Any message you would like to send to the youth out there.
Divyanshu's words: "YouTube is the best university."
That is, he is referring to a free platform where everyone may learn about any ability. For example, if someone wants to improve their personality development and communication skills, as well as learn how to establish a business and learn any kind of skill. YouTube can educate you on how to monetize your expertise and assist you in up-skilling in your industry. So basically YouTube is a free university where you can learn anything and everything.
"Having the label of Introvert and Useless Kid," he concludes, "if I can do it, anyone can." Divyanshu Jain.