"There is no greater joy than building something from scratch."
Born in Hyderabad, Deep Kalra began his career working for a corporate company. The founder of MakeMyTrip, the company's market cap or net worth is $4.38 billion as of November 10, 2023, as per stock Analysis.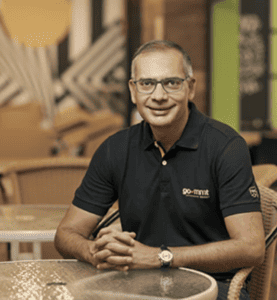 Educational background
An alumnus of St. Stephen's College, Delhi, after completing his undergraduate studies, Kalra pursued an MBA from the Indian Institute of Management, Ahmedabad in 1992. Soon after, he entered the corporate world, where he worked for companies like ABN AMRO Bank and GE Capital.
Entreprenurial spirit
With an eye for innovation, Kalra soon transitioned to entrepreneurship. His initial venture involved acquiring AMF Bowling to introduce 10-pin bowling to India. Even though the startup faced some challenges that led to eventual failure, he believes that he learned a lot, which set the tone for his later entrepreneurial successes.
All he has achieved was on his own. He says,
"Inheriting can be very frustrating because very often you have achieved something and you have done something really well, but people will turn around and say that you have got it on a platter. I think what you really need to do is use what you have as a foundation stone."
He also adds,
"I think there is no substitute for hard work, there is no substitute for perseverance."
The market gap
Deep Kalra identified critical issues in the travel sector, like disorganization and inefficiency. Undeterred by skepticism, he recognized the internet's potential to reshape trip planning. With a focused vision, Kalra launched MakeMyTrip, aiming to simplify travel arrangements and empower users. Co-founded in 2000 with Keyur Joshi, Rajesh Magow, and Sachin Bhatia, the venture secured $2 million in funding from eVentures.
Deep aimed to revolutionize the travel industry, ousting intrusive agents and simplifying cost-effective trip planning. Backed by $2 million from eVentures and co-founders Keyur Joshi, Rajesh Magow, and Sachin Bhatia, he launched MakeMyTrip, now a leading website.
MakeMyTrip opened doors to exploration and wanderlust, turning aspirations into reality. Initially focused on India-US trips, the dotcom bubble's burst two days post-launch led to a complete loss of funding. Deep had to halve his team and executives' pay to navigate the challenging period.
Their goal was to challenge traditional travel agents and revolutionize the industry by streamlining planning processes and providing cost-effective vacations.
The growth
MakeMyTrip surged as a trailblazer in India's internet travel arena, prioritizing traveler empowerment through seamless bookings. Backed by advanced tech and 24/7 support, Kalra's brainchild gained rapid traction. By 2005, firmly rooted in the Indian market, MakeMyTrip's customer-centric ethos cemented its reputation for trust and clarity.
Expanding operations in India, it continued to empower travelers with swift, transparent bookings and unwavering customer service.
Deep Kalra's pursuit of excellence earned him accolades, including topping KPMG's influential digital influencers list in 2011. Beyond travel, he contributes to society through roles in NGOs like "I am Gurgaon" and Ashoka University's governing body.
Today, MakeMyTrip stands as a testament to Kalra's visionary leadership. With a market cap of $2.84 billion (Rs 2,33,15,33,50,000) in June 2023, it's among the world's most valuable companies, cementing its stature as a key player in the global travel industry.
Ranked 3345th among the world's most valuable companies by market capitalization according to companies market cap, MakeMyTrip's growth solidifies Deep Kalra's enduring impact and the company's commitment to innovation and top-notch travel services.
Acknowledged for his pioneering role, Deep Kalra stands among India's influential business figures. He held positions in NASSCOM and its Internet Working Group and contributed significantly to the tourism industry through CII's Tourism sub-committee. MakeMyTrip clinched several accolades, including "Best Travel Portal India," "E-tailer of the Year," and "Best Online Travel Service Firm." Notably, it was recognized among the "Ten Best Companies to Work For in India," showcasing the company's dedication to its employees.
Lessons from Kalra
What's the key to building an empire? Kalra asserts,
"However big or small, make it a good business, make it a clean business, make it a business you are very proud of."
Lastly, Kalra also believes that employees are an integral part of a company's success. He adds,
"Spend disproportionate time on hiring to get it right. Hire people smarter than yourself (At least in some areas) and then allow them to take risks and also make mistakes. When things go right give credit to the team, when they don't take the blame."
Read more: Mountain Dew Teams Up with Ranveer Allahbadia for 'Darr Ke Aage Jeet Hai' Stories on The Ranveer Show