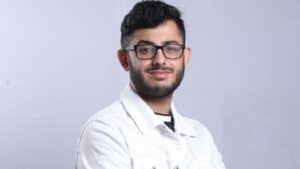 CarryMinati – The market for well made online content has been rising exponentially. It is especially a lucrative and opportunity filled horizon for people with video making skills, like recording, editing, script writing etc. If there is a suitably likable personality to present the content in a compelling, unique, and funny way, then the chance to succeed in the online landscape increases manifold.
Unlike his contemporary content creators like Bhuvan Bam and Asish Chinchlani, who found fame on the short video sharing platform Vine before moving into YouTube, CarryMinati had started his journey from there. YouTube is the space he is most comfortable in and has no plans to leave this space behind.
Ajay Nager had started the YouTube channel which now has over 34 million subscribers, as a young boy of ten to make gaming videos. It was only after doing the stint of an YouTuber for a few more years that he decided to take it up as a career, around the age of 13. Looking back at this decision, he finds it a frightening leap of faith, as he had dropped out of his formal education to focus completely on his new profession.
Despite his retrospective fears, however, Ajay Nager's channel had thrived, and his online persona had soon become a staple of Asian pop culture.
So what exactly is CarryMinati 's schtick?
CarryMinati – A clever and creative individual, CarryMinati has a range of content genres he is interested in, and adept at. His YouTube description designated him an 'Indian comedian, gamer,(and) rapper'. However he has really found his audience through consistent cultural commentary.
His cultural commentary involves everything from everyday activities we as human beings indulge in, content other creators and influencers put out, TV shows like Big Boss, films, and gaming. He observes the various attributes of these different aspects of our existence, and how we engage with it through an energetic presence, and a hyper kinetic editing style. His scripts are filled with popular curse words and idiosyncrasies of language that makes him relatable to his young audience, and his varied selection of topics makes his content interesting to a large community of people.
His humour is edgy and crass with a  self assured glibness to the presentation that draws anger and controversy as often as it does admiration and bravado. However it is a well constructed persona that CarryMinati presents, which is consistent and authentic in the irreverence towards the world. The popularity of this alter ego is unquestionable, as Nager has over 50 million total followers/subscribers across all his social media channels.
Although he is open to diversifying his repertoire and working with OTT platforms, and is an avid social media user, including Instagram and Twitter, which he uses to promote his videos, he is adamant about staying associated with YouTube. Thus, even through the pandemic and lockdown, despite intermittent gaps in upload, he has always returned to this platform with new content. He plans to continue this association for the foreseeable future.
His consistent content creation has made him one of the most recognizable YouTubers in the Asian region, and has been offered brand deals by multiple corporations. In 2022 he became the brand ambassador for social gaming platform WinZO, and is currently promoting its services through his two channels, CarryMinati, and CarryLive. He has also worked with stalwart comedians of standup scene on sketches and parody music videos, including Kunal Kamra on a video called 'Cancel Culture Organization'.
All in all, we can clearly see that Carry's star is on an exponential rise. And so we tip our hats to his efforts and say, 'Carry' on!