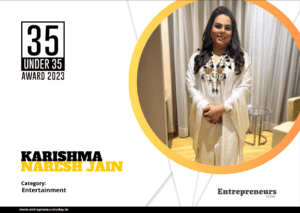 "The other day, I typed my name on Google and saw the first result as an IMDB update. It said, 'Karishma Jain is a thriving film producer, chartered accountant, and a visionary director.' I swear, I felt like I had arrived. I made it, and there's a long way to go."
Who doesn't like a good old success story? Considering how far Karishma has made it, Entrepreneurs Today got in touch with Karishma Jain to get a glimpse of her journey so far as a producer. 
Karishma's production skills are nothing short of astounding, and she has developed an impeccable reputation in the industry owing to her natural ability to captivate people with her content. She has a talent for bringing stories to life that touch the heart and an eye for detail.
Karishma's forte lies in the world of television, and her expertise in the domain has made her and her production house, 4 Lions Films Pvt. Ltd. the most sought-after production house. Having produced nearly 25 successful shows in just 6 years, Karishma is a force to be reckoned with. Her list of accomplishments includes some of the most well-known shows on television such as Ishqbaaaz, Imlie, Ishq par zor nahi, Namak Isk ka, and Kulfi Kumarr Bajewala, to name a few. She has also won multiple awards for her exceptional productions, including the Best Show Award for Ishqbaaz, Nazar, Kulfi Kumarr Bajewala, and most recently, in December, for Imlie.
Not only that, Karishma has dabbled in filmmaking as well, and her first Marathi production, Ranangan, starring the charismatic team of Swapnil Joshi and Sachin Pilgaonkar, was both a critical and financial success. Her enthusiasm for film is clear in her work, and she has a talent for making viewers feel as though they are a part of the story as it unfolds.
The Rising Star
In the entertainment sector, the name Karishma Jain has come to represent originality and creativity. Her most recent project, Ranangan, is evidence of her talent. Her remarkable production skills have enabled her to carve out a space for herself in a market that is extremely competitive.
Ranangan is a film that has won over viewers and critics alike and stars the renowned actors Swapnil Joshi and Sachin Pilgaonkar. The movie, which Karishma directed, is a masterclass in narrative storytelling, with each scene expertly structured to elicit feeling and produce an immersive experience.
We asked her what she believes is unique about her work. Karishma says,
"I believe that my willingness to take risks and produce various types of projects is what sets me apart in the entertainment industry. The diversity of my work and the leap of faith I take with each new project also make me and my work unique."
Rising Above Doubts
The greatest challenge for Karishma was maintaining her credibility in her field. As her journey seemed like a tightrope walk, maintaining her credibility was the only way she could keep her balance. Starting out young made it all the more challenging for broadcasters to have faith in her production and financial abilities. While she was undeniably innovative in her approach, she struggled to secure funding and exhibitions because of this lack of trust. Karishma had to continually put her best foot forward and establish her credibility in the profession in order to get beyond this obstacle.
Feats Till Now
Karishma has mastered the craft of coming up with original ideas for films and has become well-known and successful in her business as a producer.  Her impressive track record includes being awarded three times for producing the best shows in the country, which is a testament to her creativity and raw talent. Being referred to as India's youngest producer is also a great accomplishment that underlines her extraordinary talent and commitment to her art.
Her diverse range of projects in different genres is another notable achievement, showcasing her versatility and adaptability as a producer to work across different genres. Moreover, she is nothing short of a magnet for many actors, directors, and creative producers who wish to collaborate with her because of her notable contributions to the film industry.
Lessons as an Entrepreneur
Over the years, Karishma learned the value of humility and letting go of one's ego when they set out on a journey to create something of their own. 
But what does Karishma mean by this? She advises everyone that in order to be successful, one must be eager to put in a lot of effort, accept a variety of tasks, and constantly be open to lifelong learning. People can only do this to gain the knowledge and skills necessary to effectively manage their businesses.
Karishma likewise found that humility and prioritizing the needs of the business and its stakeholders over one's own needs are essential for success as an entrepreneur.
Plans for future
When asked about where Karishma sees herself a few years down the line, she astutely notes that in terms of her personal goals, she would like to carve out time from her busy schedule to travel, experience the world in all its glory, and make more time for her mental and physical health. She is also looking forward to spending time with her family and friends. 
On a much more personal level, she would like to make her mark in the film industry at a much more significant level. She also has her sights set on producing "kick-ass" web shoes and movies.
One on One with Karishma Jain
How do you stay ahead of the curve?
"Lots and lots of research. I dedicate a good two hours a day to updating myself with what's happening in the industry – what's working, what the audience is connecting with the most, and what doesn't resonate with them. So, at any point in your entrepreneurial journey, it's important to stay up-to-date. We're lucky to live in an age of Instagram, Reddit, and Facebook, where we don't have to go out of our way to search for news; it's at our fingertips every day, first thing in the morning."
How do you feel about taking risks in the professional sphere?
"I am a hard-core finance person; I am a semi-qualified CA after all, and numbers are my strong point. It's something I can never go wrong with, so I truly have a flair for budgeting, and I always think 10 steps ahead of the process. If I feel the risk is worth the anxiety that comes with it, I am reassured that it's a well-thought decision."
Can you walk us through what a typical day looks like for you?
"The day starts with lots of water, reading, meditation, and positive self-talk. You've got to be your biggest cheerleader every day. This is followed by a wholesome breakfast, a workout (which I often miss), and of course, work. On weekends, I love calling the shots, if you know what I mean, but I also love nature and basking under the sun on a nice beach."
What is your advice to people who are unable to maintain a work-life balance?
"Switch off your phone, laptop, and mind one hour before going to bed. Know that there's no point in hustling if you can't have two meals peacefully with your loved ones. Family time is just as important as work, so no gadgets while having meals and an hour before hitting the bed. Similarly, when you're at work, you need to pay full attention. You've got to give it your all, and there's no room for slacking. Trust me, the moment you strike that work-life balance, everything will fall into place."