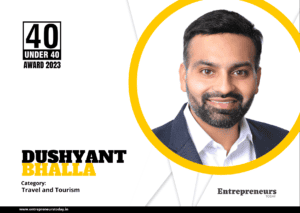 AABEE Resort and Travel Pvt Ltd has been a prominent name in the luxury travel industry for three decades, with a strong focus on creating transformative travel experiences. 
Led by Director and CEO, Dushyant Bhalla, the company has evolved from a traditional travel agency to an innovative experiential travel provider, garnering recognition among High Net Worth Individuals (HNIs) and Ultra High Net Worth Individuals (UHNIs) worldwide.
Founder of AABEE
Heading AABEE is Dushyant Bhalla, who serves as the Director and CEO. Dushyant brings a strong academic foundation, having graduated from Delhi College of Engineering and completed his post-graduation at SP Jain Mumbai. 
His unwavering dedication to education and tenacity have been the cornerstones of his journey. Under his leadership, AABEE has successfully transformed from a traditional travel agency into a cutting-edge experiential company, earning recognition among High Net Worth Individuals (HNIs) and Ultra High Net Worth Individuals (UHNIs) worldwide. 
Dushyant's visionary mission is to make luxury travel accessible at no extra cost and establish AABEE as a prominent name in the luxury travel sector, reflecting his commitment to making opulence accessible to a broader audience.
Spearheading as a leader
Dushyant Bhalla's unique leadership is marked by an insatiable appetite for learning and a genuine connection with diverse individuals. He embraces challenges as growth opportunities, displaying unwavering perseverance in problem-solving.
His inclusive leadership style fosters mutual growth through shared knowledge and teamwork, making him a successful and approachable leader.
Dushyant asserts,
"Perseverance is a hallmark of my personality. When confronted with challenges or obstacles, I do not shy away but instead embrace them as opportunities for growth. My tenacity and determination are reflected in my approach to problem-solving, where I consistently explore multiple avenues to find effective solutions."
Known for his inclusive leadership style, Dushyant emphasizes, 
"As a leader, I prioritize both educating and collaborating with my team, fostering an environment of shared growth and achievement."
Getting started
The inspiration behind starting the tour business stemmed from thorough market research, a keen understanding of the travel industry, and identifying the demand for unique travel experiences. 
Armed with a comprehensive business plan and the necessary legal considerations in place, the entrepreneur sought funding and began networking within the travel industry to build essential partnerships. 
By developing enticing tours, implementing an effective marketing strategy, and prioritizing quality service, the business aimed to satisfy customers and adapt to their evolving preferences while maintaining compliance with industry regulations and safety standards.
"Starting a tour and travel business requires careful planning, dedication, and a commitment to providing memorable experiences for your clients. It's also important to stay informed about industry trends and adapt to the evolving needs and preferences of travelers."
A unique strategy
Speaking of their USP, Dushyant says, 
"Our Luxury & Corporate Travel Agency stands apart by offering a combination of personalized luxury, deep local expertise, exceptional customer care, innovative technology, sustainability, strategic partnerships, transparency, and competitive pricing. These attributes distinguish us as a leading choice for the discerning traveler, setting a high bar in the luxury and corporate travel sector."
What further sets this business apart is its focus on delivering personalized luxury experiences that exceed conventional offerings. With an extensive network and insider knowledge, they provide access to exclusive destinations and hidden gems, backed by exceptional white-glove customer service. Transparent pricing, engaging content, and a deep emphasis on customization demonstrate their dedication to client satisfaction and trust. 
Challenges faced
Dushtyant faced a range of challenges, including intense market competition, economic fluctuations, and complex regulatory hurdles. 
Building customer trust and ensuring their satisfaction were paramount, as was the need for effective marketing and customer acquisition strategies. Technology integration, human resource management, and financial stability were also significant hurdles. 
Addressing seasonality and environmental concerns while actively using client feedback for improvement were additional challenges that demanded resilience and adaptability in this highly competitive industry.
Celebrating feats
"Success in the travel agency business often involves a combination of financial growth, customer satisfaction, innovation, and a commitment to excellence in services and operations. These achievements contribute to the agency's reputation and long-term success in the industry," asserts Dushyant.
They have achieved notable successes, including consistent year-over-year revenue growth, expanding into new markets to reach a broader clientele, maintaining high customer retention rates, and earning industry awards for their exceptional travel services. 
They are recognized for their innovative use of technology to enhance customer experiences and have established a strong online presence with positive reviews and a substantial social media following. 
Additionally, their commitment to sustainable tourism initiatives and effective crisis management demonstrate their dedication to responsible and resilient business practices.
Plans ahead
The future plans for the business involve new products, focussing on once in a lifetime and bucket list trips, unique experiences and better technology.
To achieve these goals, the business will focus on strategic planning, team development, technology adoption, marketing and branding strategies, and a customer-centric approach. 
Effective financial management and continuous progress monitoring through key performance indicators (KPIs) will be key, along with adaptability to navigate changing market conditions and challenges.
Lessons learned
The lessons learned include the importance of continuous learning, maintaining a customer-centric approach, resilience in the face of challenges, embracing innovation, and committing to sustainability. Partnerships with airlines, hotels, and local businesses have been instrumental in their success. 
For budding entrepreneurs, Dushyant's message is to start with passion and a clear vision, conduct thorough market research, prioritize customer relationships, adaptability, risk management, sustainability, networking, and perseverance. Embracing innovation and enjoying the journey are also key takeaways from their experiences.
Lastly, he adds,
"Remember that success in the travel agency industry, as in any other business, takes time and effort. Stay committed, stay customer-focused, and keep learning. My journey will be filled with opportunities for Growth and Success."