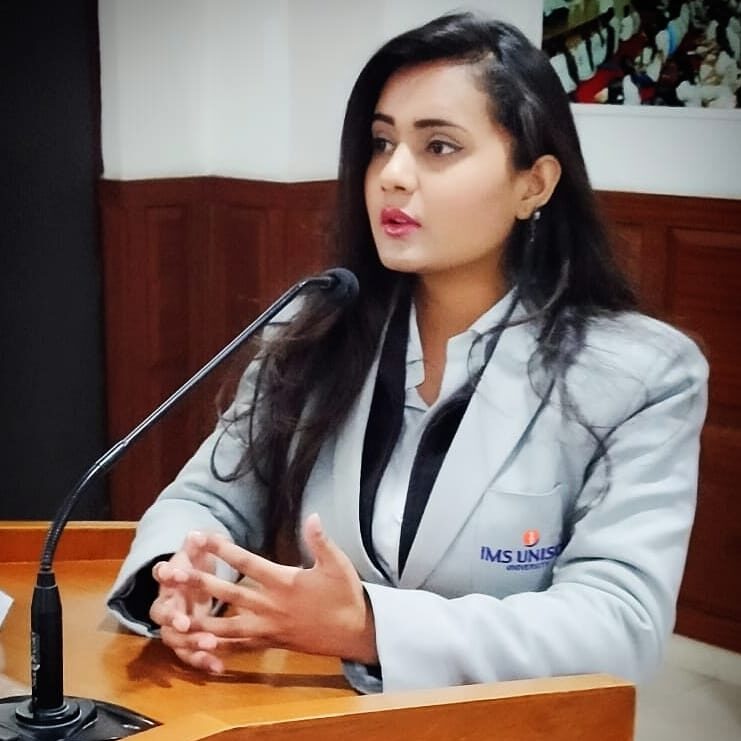 Vibhuti is a multi potentialite and that's where she stands out from the crowd.
She has always been excellent in academics since schooling till her college days. She was the School Captain in Delhi Public School , Dehradun. She was also bagged with the University Gold Medal after completing her post Graduation.But that's not all ! She is a freelance anchor and also a designer. One of her designs got huge amount of views as well as appreciation on Quora(link attached here) https://qr.ae/pGykhL
During the hard times of covid when she passed out of the college in 2020, she had multiple offers in hand. She is currently working as an Associate Publisher development representative in an adtech company called Adpushup where her work was appreciated and she got promoted just after 6 months of joining the organization.
While she was pursuing her Integrated MBA Programme (2016-2020)in Marketing and Finance from IMS Unison University Dehradun, she did 8 internships out of which two were in non-profit Organisations; WERP( WOMEN EMPOWERMENT RESEARCH POLICY) and YEF (YOUTH EMPOWERMENT FOUNDATION). She was involved in various projects that were meant for the welfare of women, youth and the society. She also represented two Research papers on consolidation of public sector banks to achieve $5 trillion Indian economy and Research paper on $5 trillion emerging Indian Economy versus environmental sustainability in the IUU National Conference 2020.
While working in YEF, she went to various schools for the underprivileged and motivated the children with her speech. She also visited various orphanages and institutions with the team to provide the children with books and stationary. They also published various articles after having long conversations with those talented children.
Vibhuti also took the initiative to spread awareness about NPTEL ( free online courses from IITs) in various groups for women and girls where they can follow their passion and learn what they like. Vibhuti herself is IIT Kharagpur certified in Business analytics and IIT Kanpur certified in Project Management. She is also a Global Exemplar six sigma GREEN BELT.
According to her a woman should be both practical and spiritual. She believes in small disciplines and hard work repeated with consistency and lastly being fiercely Independent and a confident woman !
Learn more visit : Women entrepreneurs section