Surbhi Bhatia is the founder and CEO of The Mom Store, a prominent Indian mother and baby goods business that strives to celebrate parenthood from conception through early motherhood. It also gives a forum for young moms to blog about their experiences. Surbhi is enthusiastic about increasing the number of women in the workforce, and she counsels and coaches many aspiring women who are returning to work after maternity leave, assisting them in achieving their goals.
Surbhi Bhatia a Mom Behind "The Mom Store"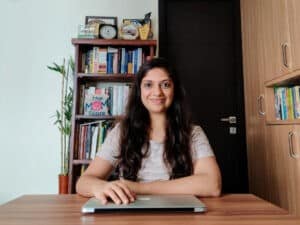 Surbhi Bhatia, a graduate of IIM Kozhikode, worked as a telecom and media technology strategy consultant at Deloitte in the United States before leading the Business Excellence team at Aditya Birla Fashion and Retail Limited, which comprises brands like Peter England and Allen Solly, among others.
Surbhi Bhatia had to make do with big and extra-large sized shirts when she became pregnant in 2017 since she couldn't locate appropriate maternity clothing. Surbhi's pregnancy and parenthood experiences inspired her to start her own business in 2018. The mother-to-agony is had just begun. Surbhi established Bengaluru-based maternity business The Mom Store in July 2018 as another stage in her "personal parenting journey," motivated by a desire to find items that were either absent or difficult to get in the Indian market. The online platform, which began with a capital of Rs 3 lakh and three goods, now offers a broad range of maternity apparel, nursing accessories, infant clothing, feeding gear, and other necessities.
A go-to brand for mothers-to-be
Based in Bengaluru, Karnataka, The Mom Store was founded to provide the greatest items for moms and their babies. The Mom Store was founded by a mother who was frustrated by the lack of decent, practical, and useful items on the market. As a result, The Mom Store is an effort to focus on goods that a woman would desire for herself and her baby as she begins her parenting adventure. They want to develop items that will make life easier while also looking nice.
Items that are both utilitarian and chic.
Last but not least, high-quality and well-cared-for items. Child Bedding Sets, Baby Swaddle Wraps, Infant and New Born Collection, Baby and Toddler Pajama Sets, Nursing Pillows, Diaper Bags, Baby Milestone Blankets, Kids Ethnic Wear Festive Collection, Baby Socks, Maternity Wear, and Kids Shoes are among the company's product offerings. The Mom Store has developed into a community and a platform where moms may blog about their experiences in addition to being an eCommerce site.
The Mom Store is a main Indian mother and child items startup
The creator has developed 30 primary categories and 65 sub-categories of mother-baby items throughout the years, and ships to India and around the world. The Mom Store's items are also available on various marketplaces such as Myntra, Amazon, Firstcry, Ajio, Hopscotch, and others, in addition to its website. With a debut at select Mothercare shops in Bengaluru and Hyderabad, it made its entrance into offline retail. The business recently made its big-screen debut as a wardrobe partner for Dice Media's YouTube Web series Firsts, with their maternity wear worn by the protagonist in Season 6 receiving over two million views.
Today, the business is claiming a piece of the lucrative maternity wear industry, which is expected to expand at a CAGR of more than 15% between 2020 and 2025, as well as the infant apparel market, which is expected to grow at a CAGR of more than 15% between 2020 and 2025.
Maternity startup grew 200 percent amidst COVID-19
The Mom Store, which was founded in July 2018 by IIM alum Surbhi Bhatia, has grown 6x in the last two years, from Rs 50 lakh in annual sales in Financial Year 2018-19 to Rs 6 crore in Financial Year 2020-21. Since its inception, the maternity company has dramatically expanded its product selection, which now includes 5,700 SKUs for The Mom Store and 1,700+ SKUs for onboarded merchants in its curated marketplace model. In the previous year, it sold over a million orders and generated an income of Rs 6 crore, 200 times the amount spent in FY21.
The Mom Store, which has so far been bootstrapped with Rs 50 lakh and has produced Rs 2 crore and Rs 50 lakh in revenue in fiscal years 2019 and 2018, is now running at an annual revenue run rate of Rs 12 crore for fiscal years 2021-22. These items, which range in price from Rs 500 to Rs 5000, are sold across India via the startup's website and promoted through different social media platforms. On Instagram, the startup has more than 70,000 followers.
Future Endeavors for The Mom Store
The Mom Store is currently looking to obtain its first round of funding to quickly grow the firm and "establish an indestructible presence in the Indian market." The goal is to to "be the most-preferred and confided in brand" among Indian moms. In the next three years, the company plans to grow its offline retail presence through Mothercare, offline popup stores, and exhibits, as well as open an experience store.
By providing bespoke corporate giving solutions for baby and maternity gifts, The Mom Store has opened up new growth channels.
This year, the startup has sent over 500 bespoke gift boxes to businesses, including a fintech firm, a research firm, and a digital marketing firm. The entrepreneur has several new goods in mind for the future, including baby furnishings and transportation equipment such as trams and strollers. Surbhi believes The Mom Store will become the go-to brand for Indian mothers-to-be in the next two years.