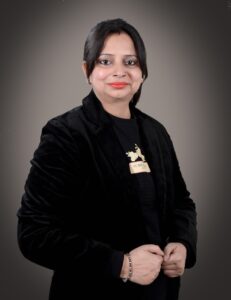 Swati Sharma is the owner of Swati Digiwork which is a Social Media Agency. She is a career counsellor who turned into Digital Coach. She has been working in the Digital Marketing domain for the last 4 years and has more than 8 years of experience in sales and closing. She started as a career counsellor and guided over 1 lakh students during her career in the counselling domain. After her stint in her counselling career, she started as a Digital Marketer and now she owns an agency. The agency helps it's clients to achieve brand visibility through digital channels. Swati Sharma has taken the initiative to teach 10 thousand newbies for Free through Live Sessions. She has the vision to teach them how to reach their maximum potential in this field. The idea of teaching started when she faced a lot of queries from beginners for 6 months. All the problems they mentioned were not new as she herself has faced the same. Due to lack of resources, they have not been able to excel in their career. Swati Sharma wants to be the torchbearer and provide much-needed guidance to the budding Digital marketers.
Currently, she is mentoring over 250 students and teaching them digital marketing from Scratch for free. Her motto is to share whatever knowledge she has with people.
In her 20s, she recalls that her life had been a roller coaster ride. She thinks one should believe in themselves and self-belief can take one to places they could have never imagined in their lives. In these growing years, one would face struggles, challenges and difficulties. If the goals are big, the obstacles will also be big. In this early stage of life, it's very important to have a mentor. No matter how hard the situation is, there is always something great on the other side. Mistakes are inevitable in our lives and so are our mentors. Moving forward with the right guidance will make a person successful no matter what.
Swati Sharma has an entrepreneurial spirit and decided to start her own agency to make an impact. While working as a counsellor, she was doing well but she felt she was not reaching her level of potential. She felt she wanted to touch lives and make herself a brand that people would recognize. So to pursue her passion, Swati Sharma started her own agency. She recalls that when she started the business she didn't have much clarity, but as the business flourished, she started getting clarity and a roadmap. Her business has helped many big clients to skyrocket their brand and increase their revenue.
Swati Digiwork, as an agency, offers multiple services to exponentially grow the Online Businesses of clients. They provide services like Digital Ads, Copywriting, Landing page designing, Funnels, Automation etc to bring more revenue for them. They specialize in funnel building for Digital Businesses.
When asked if she wants to share something with the country, she said," To all the people reading this, I want to tell you the Reality which very few people will tell. That is
"you're born to be Winner". "To achieve all your dreams".
But just because you're afraid to take that initiative, you don't even know what you miss in life. Maybe you can be the Next most successful Entrepreneur of the Nation, or of this world. But just because you're not able to take the first step, you never get to know what treasure your destiny has kept for you.
So learn to TAKE ACTION!
Another important message is to have MENTORS in life. Believe me, you can achieve what seems Unachievable to you if you have the right Mentors in life. They change your Mindset, give you the best advice and make you deserving enough to achieve whatever you want to achieve in life. So don't say much about this,
Just go and get a Mentor and revive all your Dreams!