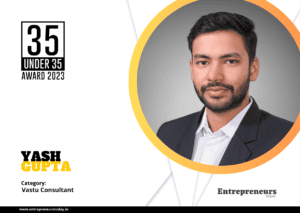 "The endeavour I'm in is inspiring every day. The results from any site inspire me and boost my confidence for another project. A few years ago, one of our prestigious and long-time clients bought a rice mill at an auction in Punjab. The previous owner could not run it, and it was auctioned off. When we visited the site, we noticed all the Vastu defects. We recommended all the necessary corrections, and the client implemented our suggestions in due course of time. The same rice mill is now a success, known as India's largest rice mill under the brand name 'India Gate Basmati Rice'."
This is what every business strives to achieve, and in a conversation with Entrepreneurs Today, Yash highlights how his venture has been able to add value to emerging businesses and startups. 
SAYASH VASTU is a professional Vastu consultancy service founded by the namesake Yash Gupta. Yash has received extensive training in Vastu under the guidance of Mr. Satish Gupta, who has over 30 years of experience in the field. Yash holds a bachelor's degree from Delhi University, an MBA, and a Vastu certification from Bharati Vidya Bhavan. With this knowledge, Yash has developed space healing techniques to implement Vastu practice on any premises.
Yash offers valuable insights and expertise in analysing the energies of a place to recommend harmonious, prosperous, and easy-to-practice solutions for individual, family, and business well-being. Yash has rich experience and practice of the Vastu System, and guides in different areas, including industrial, residential, commercial, and hospitality sectors across the globe. Clients of Sayash Vastu are spread across various countries such as India, the United Kingdom, the United States of America, South Africa (Cape Town), Nigeria, Italy, Bangkok, Bangladesh, Australia, Singapore, etc. Yash aims to share the benefits of their knowledge of Vastu for the greater good.
The Inception of SAYASH VASTU
Yash's inspiration to pursue Vastu as a career was driven by the positivity of the results and outcomes that Vastu provided. Initially, Yash was less keen on the subject of Vastu and was running their own rice-trading business. However, while accompanying his father to Vastu meetings in their spare time, Yash started giving suggestions to friends who were setting up their factories based on what they learned in those meetings. Gradually, their friends started feeling that Yash's knowledge of Vastu was their strong point, as their businesses flourished with Yash's recommendations. Over time, Yash developed an interest in Vastu and began to learn more about it. This positive feedback and results from their suggestions inspired Yasht o pursue Vastu as a profession and share the benefits of Vastu knowledge with others.
What's Unique About SAYASH VASTU?
Yash's business is unique because it operates on the principle that Vastu is not just a science, but nature itself. According to Yash, Vastu is based on the sun, moon, gravity, wind, and balancing the elements of nature in any space. With 30 years of experience and a clear understanding of the principles of Vastu Shastra, Yash's consultancy evaluates any property or premises according to these principles.
Unlike some other Vastu consultants, Yash does not sell any remedy or quick fix solutions for Vastu problems. Instead, Yash believes that Vastu cannot be fixed by applying crystals or other objects as Vastu is nature, and one cannot challenge nature. For example, if a toilet is in an inauspicious place, the remedy is to relocate the washroom to a more suitable location.
The team's approach is very direct and specific in its principles, and they do not try to find loopholes or make adjustments without valid thought. This unique approach distinguishes Yash's business from others in the field of Vastu consultancy.
Achievements So Far
Yash's consultancy considers their clients' success and well-being as their biggest achievement. If their clients are growing and prospering using Vastu principles, Yash considers their goal achieved.
Some of the successful brands that Yash has worked for include Max Healthcare Hospitals, India Gate Basmati Rice, Denver Perfume, Sukhbir Agro Energy Ltd. (Power Plants), Gallantt Ispat Ltd., Max Square Noida, Max Estates Okhla C&D, Leeu Estates (South Africa), Spica Restaurant (Italy), Cittamani Restaurant (Italy), Antara Senior Living, ISB Mohali, and many more.
Working with these renowned brands is a testament to Yash's expertise in the field of Vastu and their ability to provide effective Vastu solutions for businesses in different sectors.
Yash further adds, "In my journey, the only lesson I have learned is to never forget your values in life for short-term gains. Always be true to your profession and offer long-term solutions for the right kind of results. You should aim to earn the trust of people who associate with you so that they connect with you for a lifetime."
Plans for the Future
Yash's future plans include spreading awareness about Vastu and its benefits in every sector. They plan to focus on construction projects that are facing problems or are stuck, factories that are shutting down, and households with severe health issues.
In addition, Yash plans to impart their Vastu knowledge to those who are interested in learning this art and serving society. By doing so, they aim to help more people achieve prosperity and well-being through the principles of Vastu Shastra.