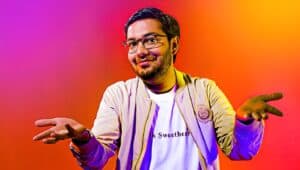 Rahul Jain :How to attract customers?
Rahul Jain's work primarily revolves around this question. And although he is a care free person with a frivolous attitude towards his own self, he takes his work quite seriously.
The work that first brought him attention was an advertisement campaign he ran for Fevicol in the state of Punjab.
Bringing the Customers Back
The year was 2017 and Fevicol was facing stiff competition from a series of local brands. Their cheaper products were preferred by contractors and consumers, and Fevicol was bleeding customers.
Sideways was the marketing consultant for the brand, where Rahul Jain was employed as a brand and creative strategist. He was asked to figure out a solution to this problem.
All of 24 years, Rahul went to work immediately. He communicated extensively with homeowners in the process of getting furniture made, contractors employed in these jobs, and laminating and hardware outlets. Each of these stakeholders had a different approach to the issue. Consumers were seldom concerned with the material being used, and focused more on the pricing provided by contractors, whereas the contractors were more interested in cutting costs to maximise profit.
So Rahul took a diverse approach to construct a solution for the problem. The main aspect of it was a set of digital advertisements.
Fevicol was known for their memorably humorous ads. But the world of digital ads, especially in India, was virgin territory. Nonetheless, Rahul persisted, and created a series of ads detailing the unfortunate predicament of people who used alternative gums for their constructions.
For the contractors, Rahul launched an anti campaign against the alternate brands, christening them lottery waali local glue, alluding to their hit or miss quality. A limited edition deck of cards was also launched, advertising the range of available Fevicol products.
Sure enough, the winds shifted Fevicol's favour, and the customers decided to stick to the brand.
A Unique Approach
Experienced adman Abhijit Avasthi has described Rahul as curiosity meeting imagination.
Indeed, he has consistently striven to find the issue at hand, research its details as deeply as possible, before attempting any rectification.
This diligence is aided by sincerity. In an article advising brands on their future actions as the pandemic slowly recedes, and life begins to return to some kind of normal, he warns brands from overdoing the concern schtick that became popular in Corona times. Instead he asks them to communicate honestly and listen to what the consumers and workers are telling.
An unsurprising advice, as that was his modus operandi in his breakout work with Fevicol as well. 
Impact and Experience
Since 2017, Rahul has worked with multiple large scale brands, including Disney India. He designed their marketing campaign for Incredibles 2, which helped the film achieve path breaking success in the subcontinent. He has worked in an advisory capacity with many start ups, and most interestingly, conceptualised the country's largest moon installation in Nehru Planetarium, Mumbai.
On being chosen as one of the Forbes India's 30 under 30, he is characteristically humble, expressing a fear of not living up to the expectations this honour levies upon him.
Something tells us that he will do just fine.