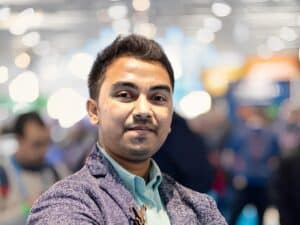 How can awareness lead to savings?
That is the problem statement from which Gokul Srinivas designed the Minion.
Energy is the primary investment for any organization. Whether it is a commercial business, a philanthropic organization, a hospital, or an apartment complex.
In the current energy crisis, its consumption is unquestionably expensive. Both in monetary and environmental terms.
The Minion tracks the consumption of energy in an unit, and takes measures to reduce excesses.
Humble Beginnings
Gokul Srinivas was a state level hockey player for Karnataka, but an injury affected his chances of continuing in that field. The same injury disrupted his studies heavily, getting reflected in the marks of 10th board exams.
The score, which was below 60%, became a hindrance for Gokul to get into colleges. He counts up to four hundred rejections during that period.
Swimming against the current, he managed to get admitted to Karpagam College of Engineering, where he discovered a love for electronics. There, for his final semester project, he had to design a working electronic prototype.
Eager to do something that would be worthwhile, beyond the boundary of his educational years, he got to work, and came up with the technology for his Minions.
Tenets of Function
The palm sized Minion is run via AI and machine learning. Incredibly energy efficient, it can simply be attached to the bus bar panel of an unit. It uses energy or noise signals emitted from electronic devices when, switched on. The device is equipped to collect up to four million data points in a second. The data is then slotted and displayed to a connected phone. Along with presenting analytics for consumption and savings, the device can also detect malfunctions by reading the pattern of noises emitted from electronic devices.
Artificial intelligence and machine learning has been a reality for a long period of time. But Gokul's unique implementation of these systems has allowed for a significant leap in documenting energy consumption rates, and its consequent conservation.
Impact
Gokul Srinivas and MinionLabs have received widespread acclaim for their work in conserving energy in times of such crisis. Their collective statistics of conservation is more than 5 million kwh, which equals a reduction of 3700 metric tons in carbon footprint.
The company has a wide range of influential customer, including Accenture, Robert Bosch, Ford, MRF India, Cisco, and Fortis Healthcare, for whom they have saved 18 lakhs on a 1.5 crore bill in the critical care unit.
During the pandemic, work in offices and industries dried up, forcing Minionlabs to diversify their portfolio to apartment buildings and gated communities. Currently there are close to 73 Minion devices in use, across Bengaluru, Chennai, and parts of UAE. There plans for expansion into the European market as well.
Gokul responds humbly to the honour of being recognised in Forbes India's 30 under 30 list of individuals, comparing himself with the other stalwarts featured there before and alongside him.
But he sells himself short.
After all, in this era of climate and energy crisis, there is hardly anything as important and attempts to reduce consumption on a mass scale.