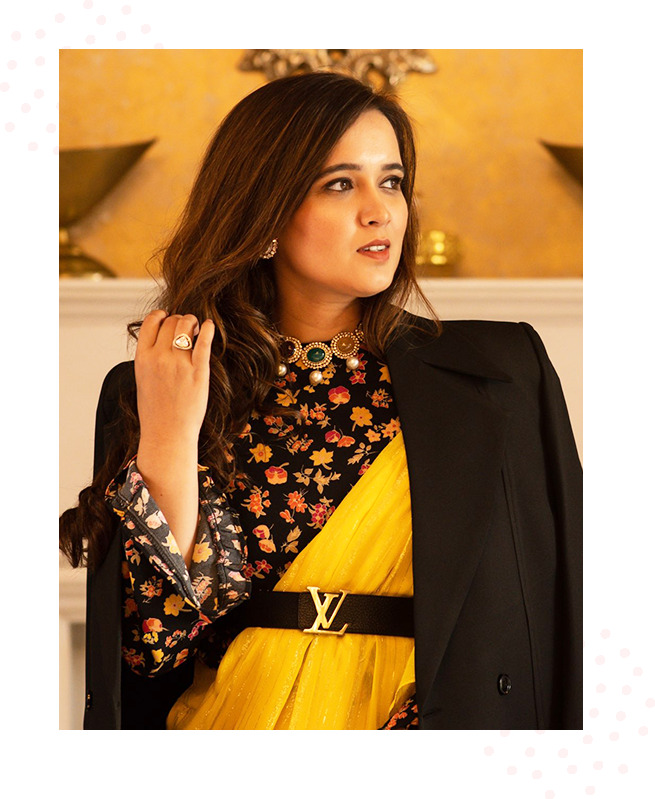 "If you don't dream big, there's no use of dreaming.
If you don't have faith, there's nothing worth believing.''
With a penchant for fashion and styling, Pari stepped into the world of fashion blogging in December 2014. Having an experience in the field of Advertising and Social Media Marketing, Pari used her expertise to take her blog to greater heights.
She always believed and still believes in swirling her ways to finding new interests. Upholding a keen interest in photography, this super versatile woman has worked as a photographer for various designers. Being a fashion enthusiast and a sui generis stylist, in addition to her blog, Pari came up with "Bunaai" in November 2016. With an overwhelming fan base, Bunaai became popular in no time and Pari tasted success as a designer too.
Pari conceived Bunaai with an aspiration to create responsible, stylish, and affordable clothing with traditional craftsmanship. Starting with a dream team of just three members, today the Bunaai team proudly boasts of its 400+ employees.
She built Bunaai around the culture of Rajasthan by adding colorful and festive designs to the label. Every month, a limited collection design is launched on the website that gets out of stock very soon. The 'Women of Bunaai' are always waiting for Bunaai to launch new designs every month especially around the festive season! This innovative business idea came from the founder herself who has been a keen enthusiast for fashion and loves doing business. She combined both of her skills to come up with a successful label which has made an unreal growth in the last few years. Bunaai has 1 million followers on Instagram already, including celebrities like Sonakshi Sinha, Bhumi Pednekar, Soha Ali Khan, Divyanka Tripathi, Ridhi Dogra, Srishty Rode, Ankita Sharma, Aditi Bhatia and many more. The label has managed to garner love from all the women who love ethnic clothing as the products are neither too expensive nor too cheap.
A brand reimagined for the Indian woman, her design principle originated from the thought that fashion is for all, being fashionable shouldn't come at a huge cost and it shouldn't harm the environment. Bunaai's signature designs and colorful patterns are an expression of absolute joy for the confident and independent women of today. Each product is designed with great attention to details, and as a brand understanding their customers' needs and ensuring quality through rigorous checks, and making sure that only the best products reach their beautiful #WomenofBunaai.
About Bunaai:
In 2016, Pari Choudhary launched 'Bunaai', the much-awaited –women's only brand, that has received many accolades from its valued customers to date. As a brand closely connected to our roots, the team at Bunaai makes sure that the 'Women of Bunaai' truly embrace the essence of their ethnic beauty and lead the way. Established in Jaipur, this ready-to-wear brand has come to be synonymous with versatile yet powerful casual-wear for women. Known for the use of experimental textiles, vibrant prints, and detailed craftsmanship, Bunaai has inspired various brands in India, while constantly evolving and expanding the product line and ruling the hearts of loyal customers.
Website: https://www.bunaai.com/
IG: https://www.instagram.com/bunaai/