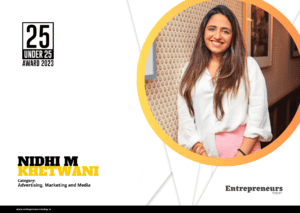 Nidhi Khetwani is the driving force behind the young and vibrant N&M PR Consultancy, a powerhouse PR & Creative agency. As a co-founder, Nidhi, alongside Mihir, shares an unwavering passion for the world of Public Relations, evident through their stellar track record of delivering exceptional work to their esteemed clientele.
Leaving an impression
At N&M, storytelling takes center stage as they craft compelling narratives for brands using a diverse range of tools and techniques. In a field dominated by experienced professionals, this young and enthusiastic duo are disrupting traditional PR agencies through new age PR to cutting-edge digital strategies, content creation, influencer engagements, event experiences and collaborations. Nidhi and her team masterfully weave their client's stories into the lives of stakeholders and customers alike, making a lasting impact.
Through the years, N&M Consultancy has left an indelible mark by collaborating with some of the most exciting corporate and consumer brands, handling events with finesse. She adds,

"Over the years, we've had the opportunity to work with some of the most exciting corporate and consumer brands, events. Our clients range from established corporations to the best D2C brands in the country, emerging startups, and PSUs, among others."
Drawing inspiration
In a heartfelt tribute to her mother, Nidhi attributes her success to the invaluable lessons she learned from her. Guided by her mother's wisdom, Nidhi found her calling in the fast-paced world of Public Relations, a field that perfectly complements her passion for swift action.
Nidhi's PR journey commenced during her college days when she served as the PR Vice President for her college festival where she met Mihir who guided her through every tough and easy day!
Her fascination with PR grew further as she joined one of the nation's biggest PR agencies, solidifying her love for the craft. Over the next few years, her dedication and hard work propelled her from an intern to heading her own division in the lifestyle domain at just the age of 22. Inspired by her burning ambition, Nidhi and Mihir took a leap of faith to establish her own PR consultancy. 
From the moment they set up shop, success followed swiftly. Nidhi candidly remarks, 
"Once we set up, we won our first client on the first day, and on the next day, we signed on another big one. We were up and running and never looked back!"
Seizing Opportunities
At the forefront of innovation, this dynamic PR agency is constantly on the lookout for fresh prospects, fueled by a relentless drive to break away from the norm. Their mission? Propelling brands straight into the heart of mainstream culture is a feat they achieved with finesse.
While tight-lipped about specific ventures, the agency strategically capitalizes on blockbuster movie launches and highly anticipated TV show releases to secure valuable product placements for their clients. What sets them apart is their unwavering commitment to authenticity, never resorting to paid placements but instead relying on their extensive network of connections.
Collaborating with a diverse array of professionals, including props departments, makeup artists, hairdressers, and behind-the-scenes personnel, the agency orchestrates a meticulous and multi-layered approach. Yet, this isn't a game of instant gratification; patience is paramount in their line of work, as success takes time to unfold.
Rising to the challenge
In the fiercely competitive landscape of the PR industry, Nidhi encountered her share of formidable challenges right from the start. She reveals,
"As a young entrepreneur in the PR industry, one of the initial challenges I faced was establishing credibility and gaining the trust of clients. Overcoming this required a proactive approach."
Unwilling to be deterred, Nidhi took a proactive stance, devising a well-thought-out strategy to surmount these hurdles. Central to her approach was the creation of a compelling personal brand that resonated with authenticity and authority. Leveraging her expertise, she sought out opportunities to showcase her knowledge and insights through thought-provoking and insightful thought leadership articles. Taking to the stage, she fearlessly engaged in speaking engagements, projecting her expertise to a broader audience and leaving a lasting impact.
Nidhi further added,
"I focused on building a strong personal brand, showcasing my expertise through thought leadership articles, speaking engagements, and networking with established professionals in the field. By consistently delivering high-quality work and demonstrating my knowledge and skills, I am now finally able to earn the trust and confidence of clients."
Empowering Brands
The agency stands tall on a foundation of success, driven by a resolute commitment to delivering tangible results. Their pride lies in crafting PR campaigns that go beyond mere buzz, ensuring they deliver a measurable commercial return on investment. Accountability is at the core of their philosophy, and they never shy away from showcasing the direct impact of PR on a brand's success and growth.
With a mission to demystify PR, Nidhi's agency empowers companies to take control of their press relationships. Armed with the tools and knowledge provided by the agency, businesses can unlock the secrets that traditional PR often keeps under wraps. This not only leads to a more sustainable and cost-effective approach to securing press coverage but also enables founders and their teams to understand the media landscape better.
The ripple effects of their efforts extend far beyond their client base. By sharing their expertise and insights, Nidhi's agency helps diversify the media landscape and the content we consume, a cause close to her heart. The knowledge shared with businesses facilitates more collaborative partnerships with external PR agencies, creating a win-win scenario for all stakeholders involved.
Lessons learned and future plans 
In the very competitive world of PR, Nidhi's experiences have taught her invaluable lessons that form the bedrock of her success. Nidhi asserts,
"Relationships are at the core of PR. Cultivate strong connections with clients, media professionals, industry peers, and influencers. Take the time to understand their needs, provide value, and foster mutually beneficial partnerships."
Adaptability is another essential trait she learned to embrace. She explains,
"Being adaptable is crucial to thriving in this industry. Be open to new ideas, embrace change, and proactively seek innovative solutions. By staying flexible and adaptable, you can navigate challenges and seize opportunities that come your way."
As a female entrepreneur, Nidhi discovered the power of self-belief and confidence. She encourages other women not to be held back but to rise and take charge of their aspirations. The key, she emphasizes, is perseverance and unwavering determination to pursue one's vision.
When asked about where Nidhi sees herself a few years down the line, Nidhi signs off by revealing,

"The media and PR landscape is changing all the time, I've seen that in just a few years. For us, our focus will always be to create opportunities for media access where there is none, so I'll continue to evolve my business in line with those values."