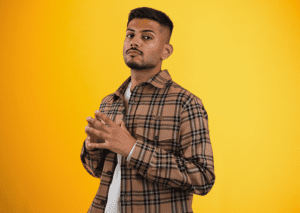 Shlok Srivastava is a young and dynamic entrepreneur who is the founder of Tech Burner, a popular technology-based YouTube channel. He is known for his expertise in technology, his creative content, and his innovative ideas.
Shlok Srivastava was born on 18th January 1999 in Lucknow, Uttar Pradesh. He completed his schooling from City Montessori School in Lucknow and later moved to Delhi to pursue his undergraduate studies. He is currently pursuing a Bachelor of Business Administration degree from Shaheed Sukhdev College of Business Studies, University of Delhi.
Shlok's interest in technology started at a young age. He was always fascinated by the latest gadgets and devices and loved to explore their features and functionalities. In 2015, he started a blog to share his knowledge and insights about technology. However, he soon realized that videos are a more engaging and effective medium to reach out to his audience.
In 2016, Shlok started his YouTube channel, Tech Burner, with the aim of providing informative and entertaining content about technology to his viewers. Initially, the channel focused on smartphone reviews and comparisons. However, over time, it has diversified into other areas such as laptops, gaming, and other gadgets. Today, Tech Burner has over 4 million subscribers and is one of the most popular tech-based YouTube channels in India.
What sets Tech Burner apart from other tech channels is Shlok's unique approach to content creation. He has a natural flair for storytelling and is able to make even the most technical topics easy to understand and entertaining. He also experiments with different formats and styles, from unboxing videos to tech challenges, to keep his viewers engaged and entertained.
Apart from Tech Burner, Shlok is also the co-founder of a startup called TARMAC, which aims to provide sustainable and eco-friendly solutions for the aviation industry. He is also a social media influencer and has collaborated with several brands such as OnePlus, Intel, and Realme.
Shlok's entrepreneurial journey is an inspiration to many young people who aspire to make a mark in the world of technology. His dedication, hard work, and innovative ideas have made him one of the most influential and respected tech influencers in India.