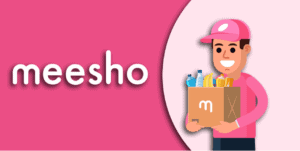 The Meesho seller brand has over 5 million products and sangrias across various categories of clothing, beauty, and home goods. Some of the popular product categories are women's ethnic wear, men's top wear, accessories like western wear, and home essentials. Selling with Meesho seller platform gives you a golden opportunity to start your own online store sitting at home without investing any money and unlike other eCommerce platforms, Meesho does not charge any commission for selling your own products on Meesho. In this article, Everything You Need to Know to Start Selling Anything on Meesho
Meesho seller – Things you need to know while registering
– GSTIN Number
– Active bank account
Follow these easy steps to start selling/shopping on Meesho
Step 1: First of all you have to create a seller account on Meesho.
Step 2: Enter your email address and password in the email fields.
Step 3 : Enter your GST number appropriately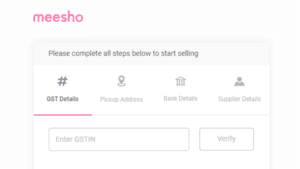 Step 4 : Provide your proper pickup address
Step 5 : Enter your correct active bank account details
Step 6 : Supplier Type in the appropriate details
Great! You can now access your Meesho seller main dashboard. Here you can add catalogs of your products, manage inventory and process your orders. You can now also view your deposit and payment status on your Meesho supplier dashboard.
Meesho seller – List Product Catalog?
After successful registration, you will reach the supplier panel. Here you will see the option of uploading a well-organized quality catalog of products where you can organize your products.
The very first thing to do to sell your products on Meesho is to upload the catalog to the panel. Also, you have to add their pictures according to your product. In which a good product description, as well as help, repurchasing sellers to sell your products on Meesho.
Example: As you are planning to sell a saree on Meesho seller, it will require your catalog of sarees and each and every major element of the saree to be displayed in the most presentable manner. Also, if you have multiple colors of the same saree, you can upload the images of this saree separately. You can create a very well-designed product catalog to sell your quality products.
Price and Commission Rates on Meesho Supplier
Settlement Amount = Product Price – Commission Fee (0% for most of them, depending on the product category) – GST – TCS
Here the settlement amount is the same amount that you get on the 15th day after the order delivery. Product value is the price you decide to share with Meesho Supplier, GST tax is what you pay for each sale. Meesho charges 18% GST on the commission fee. And lastly, TCS is 1% of the total taxable value. Meesho does not charge any fixed fees or collection fees or hidden fees, unlike other e-commerce services.
Can anyone sell products on Meesho without GST?
As per the orders of the government rules, it is absolutely mandatory for all the sellers working on the e-commerce website to have a Goods and Services Taxpayer Identification Number (GSTIN). Hence, as per the rules, you will need a GSTIN to become a vendor on Meesho. ClearTax is a partner of Meesho who can assist you in getting the GSTIN for your new business.
However, if you are a reseller, you will not need a GST number. You can start your business from your home for free. All you have to do is promote and promote the item you want to sell with your network of resellers.
How to get the product delivered to Meesho?
When you receive an order for your products, Meesho will immediately send you an email as well as a notification on the Meesho supplier panel. Meesho's own logistics partners Meesho will take care of the delivery of your product at zero cost. Meesho has tied up with a number of logistics partners who pick up the products from your location and deliver it directly to the customer's home or office wherever they want.
Immediately upon receiving an order for the listed product, Meesho will appear on the supplier panel and perform the following steps:
– Accept orders and download labels
– Pack the product and affix the label to the packaging
– Assign the product to Meesho's logistics partners
Benefits of selling products on Meesho
– Suppliers who sell the product on Meesho retain 100% of the profit by paying no commission back to Meesho seller.
– Unlike any other major marketplace, Meesho absolutely does not deduct any shipping charges from your settlement account.
– Very easy product listings, lowest cost shipping charges, and secure and timely payments make Meesho your resale network of products and endowments with crore+ consumers.
– Be it small scale sellers or very big or small brands, Meesho is a very good platform for small entrepreneurs which gives a great plan to start a business without real investment