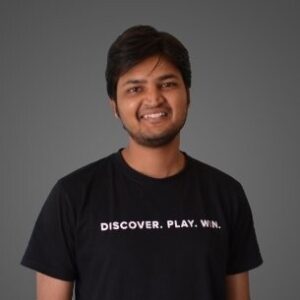 GreedyGame has grown year after year. In fact, in the last year, there has been a 100 percent growth and here is with us Arpit Jain, Founder and CEO of GreedyGame, to discuss his journey, company growth and many more……
Tell us about GreedyGame's journey so far.
Arpit Jain: We are completing a decade this year, and the journey has been no less than a rollercoaster ride. GreedyGame was founded in 2013 with the sole purpose of improving mobile app advertising. That was a time when mobile ads were intrusive and disruptive to the user experience, which also meant very few conversions for the advertisers. GreedyGame is the result of our content-driven approach to mobile advertising.
GreedyGame was one of the early pioneers of native advertising for gaming apps, helping publishers with advanced native formats years before AdMob or FAN. Today, we have evolved to be a one-stop platform for publishers to acquire users, maximize revenue, and get actionable insights to improve their business trajectory. In the past decade, we have set the industry standards to engage the audience better – making ads fun and profitable, and today we are a Google Channel Partner, working with more than 1500 publishers and 500+ advertisers.
Similarly, as a team, we have grown year after year. In fact, in the last year, there has been 100 percent growth. We were able to achieve multifold growth in the last three years with the team and technology we had.
This is not all; today we are also supporting young app developers and startups with best practices, insights, and marketing funds to grow their apps with our platform, called 'Appicorns'. I could not have imagined a better journey for GreedyGame.
How do you think mobile app subscription monetization will evolve in 2023?
Arpit Jain: Subscriptions have been one of the top app monetization trends over the last couple of years. A report suggests that global subscription consumer spending in the top 100 apps grew sharply by 34% from 2019 to 2020. However, we will see more of a hybrid app monetization trend. A mix of different monetization models within a single app is what we will see more of. For example, an app can monetize with in-app purchases, in-app ads, and subscriptions simultaneously. The main advantage that hybrid monetization provides is the ability to make money off a wide range of users.
What factors do you think have transformed the app economy in India recently?
Arpit Jain: The number of "made in India" and cheaper smartphones increased quarter after quarter in 2022. Consumer usage has risen dramatically in recent years. 'Made in India' smartphone shipments grew 16% YoY in Q2 2022 (April-June) to reach over 44 million units, according to a latest research. Low-cost phones and the internet have resulted in increased app consumption and dependency. This has slowly brought about a cultural shift in the way people consume entertainment, access tools. The advantage of accessing information from anywhere at any time is another important factor. This has invariably put more demand on app developers and the app ecosystem.
Apart from that, COVID-19 has also been a reason behind the transformation of the app economy in India recently. According to InMobi's Annual Mobile Marketing Handbook 2021, India transformed itself into a mobile-first consumer economy amid the Covid-19 pandemic. The pandemic has changed the way consumers think. This also has a major impact on marketing strategies.
How do you think innovative apps can solve problems and add value to users' lives?
Arpit Jain: Mobile applications have become an integral part of our lives. Users are looking for tools that simplify their day-to-day work and improve the quality of their lives. Every traditional activity today is in the form of an app, and it is a matter of who can provide the best experience.
Smartphone users find that innovative apps make it easier to solve day-to-day problems. As technology continues to evolve, apps become more and more critical to business operations. Apps bring automation to otherwise manual processes, can extract information from unstructured data, and can enhance the user experience. Custom and tailor-made apps are perfect for addressing and solving a vast array of problems.
What role can 5G play in the transformation of the mobile device industry in India?
Arpit Jain: The mobile ecosystem is incredibly fast, changing at a dynamic pace every year. With the advent of 5G, the mobile device industry is on the verge of a massive transformation. The fifth-generation technology rollout in India is prepared to have a big impact on mobile applications too. It is set to take the user experience up several notches in terms of speed, enhanced features, new applications, new products, etc.
Do you think mobile app security remains a concern and may impact app monetization prospects? Please suggest some solutions in this regard.
Arpit Jain: There are concerns around security, however, it will not impact the app monetization aspects. We will see developers put an increased emphasis on protecting user privacy and securing user data. In this direction, some key measures can include using encryption to secure data in transit and at rest, adhering to strict data privacy policies, and implementing secure authentication methods.
Do you think inflation has impacted phone sales and therefore affected the mobile app economy?
Arpit Jain: The inflationary macro environment, component shortages and rise in their prices, and wildcards like the Russia-Ukraine war and weakness in the overall global economy affected the smartphone market globally, including in India. Although, the smartphone market in India continues to remain under pressure, a modest growth is expected in 2023, according to reports.
The market is projected to grow 10% in 2023 to reach 175 million units, and as 5G penetrates deeper and the economy starts to recover, we will see sales pick up and the mobile app economy take a forward trend.
What are the top factors you think have made app monetization business successful?
Arpit Jain: There are multiple factors that made app monetization highly successful. However, the primary reasons are:
Insisting on high-quality ads: We have seen a rise of brands with high-quality design, placements, and UI/UX practices. The UI/UX of the app started taking the focus. Besides, the design sense of app developers has strengthened.
Using an analytics tool: Right analytics has given a sense as to how the experience can be improved, features that can be enhanced, and new additions that can be made.
Right mix of ads: We have also seen the right mix of monetization, ads, in app purchases and subscriptions.
Last but not least is focussing on multiple marketing platforms while scaling up apps.