Please tell us something about Echelon Edge's POV towards the massive Telecom and IT industry in India, where the competition is at its peak.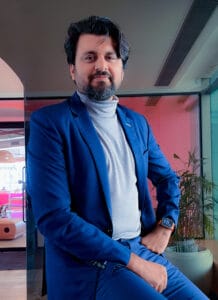 Gaurav Gandhi: At Echelon Edge, our primary aim is to offer customers powerful yet affordable services that can resolve various underlying business issues. We have spent more than 10 years in the industry and know very well what our customers want. Undoubtedly, the Telecom and IT industry in India is huge, and we have faced stiff competition before we proved ourselves. Competition for us is healthy for overall growth and we learn from our competitors as well. By utilizing years of knowledge, we have created some of the best products in the field of telecom, government, and enterprise. Our vision is to build future-ready solutions for our customers that enable them to realize their full potential. Similarly, our mission is to be the most customer-centric, data-driven, and successful solutions provider in the telecom and transport industry by innovating and adopting state-of-the-art technologies.
Tell us about how Echelon Edge specializes in solutions that are 'Made in India' to serve the Telecom and Enterprise industry.
Gaurav Gandhi: Echelon Edge is in line with the Government's view on increasing manufacturing and export from India through product innovation. Why do we need 'Made in India'? We need it because there's a requirement to strengthen the economy and the other critical reason is security. As the world is moving towards IT wars, it's essential to have our own products and solutions. The Telecom and Enterprise industry is a sensitive zone, so the company is aiming at providing affordable yet innovative solutions to ensure safety and transparency.
Echelon is a young, energetic, and over a decade-old company in the market. Take us through your journey so far and your experience in the Indian market.
Gaurav Gandhi: Our journey started as a system integrator and after successfully running for a decade we decided to have a paradigm shift and became a product company. Our focus has now completely shifted towards offering not just products but solutions to our clients. The journey hasn't been easy and we all faced our fair share of ups and downs.
If we go ten years back when we started, the Indian market was more of a reselling industry with less focus on product innovation. Taxes and compliances used to be very complex; it was difficult to do business at that time. Now there's a lot of encouragement even from the Govt. Things are less complex and in terms of customer expectations, they need automation. This has created a favorable ecosystem for small and mid-size companies who want to do things differently.
The best part of our growth is that over time, we have recognized our strengths and opportunities and know our threats and weaknesses on which we can work. We have come a long way and there's no looking back now.
There are many big old players in the IT solutions market. How do you see the challenges and opportunities in it?
Gaurav Gandhi: The competition is no longer with the old or new players, it is with the product placement in the industry. If we talk about big brands, then it's essential for them also to innovate and come up with new ways, otherwise, they can also fall behind. The more we innovate, the more successful we become.
Being a CEO of the company, what is your view about 5G and how it will help IT and non-IT businesses? 
Gaurav Gandhi: With every generation, we have seen a strong impact in the world of business be it e-commerce, textile, or telecom. With better data speed, a new market has been established, as you no longer need to worry about how soon the product will reach the customer. Similarly, with 5G, we are expecting various new ventures and industries to add more value to customers and businesses.
What are your expansion plans for the next five years, in terms of business expansion, employment, or any major collaborations? 
Gaurav Gandhi: As of now, our major revenue is coming from the telecom industry. In the next five years, we are planning business expansion in more states, large enterprises in India, and even globally in a similar domain.
As far as employment is concerned, we want to onboard more high-performing talent and invest in the training and development of the teams.
For collaborations, we are already in discussions with some strategic investors and working on building a partner ecosystem nationally and globally.
How do you rate India's performance in telecom services and what are your expectations from the Government?
Gaurav Gandhi: For the past two years, the government has been quite focused on telecom growth in India and there's a push for 5G from them and also for telecom manufacturing in India. They have new incentive plans for benefits in taxation that ensure business acquisition by the Indian solution providers.
We expect the Government to make the 5G spectrum accessible to all types of industries and private enterprises. This will help them grow to the next level.
You quote yourself as a CMMI Level 3 organization with expertise in Enterprise Product Development and Telecom Solutions. What does that mean and does it give you an edge over your competitors?
Gaurav Gandhi: For an IT product development company to serve its customers better, they need well-defined internal processes. It assures that you are using the right standards to function and build your services which is very critical for the type of customers we are handling. Companies that use standards and follow processes have the advantage to be ahead in the competition.
What would you suggest or expect from the government to make the implementation of private 5G a smoother experience for IT companies?
Gaurav Gandhi: Though global Private 5G policies are stated clearly, in India, we still lack a clear understanding of their implementation and allocation. For companies like us, who are working on such solutions are in a confused state. For example, the Government currently says that organizations can only use Private networks for calling and not for other purposes.
Smooth and lucrative reforms for 5G rollouts are expected, so that technology firms or IT companies do not face problems in acquiring private networks. We also expect the government to minimize the import of several telecom-related components.
Do you have a set-up or center abroad? If not, then any plans for the same?
Gaurav Gandhi: As we are expanding our business globally, we are planning to have various demo centers located worldwide.
What is that one USP or quality or service feature that distinguishes you from other players in the market?
Gaurav Gandhi:
We are very flexible in our delivery
Our intent is to solve the problems of the customers instead of just pushing solutions to them
Customer success is our motto and we plan to create our solution around their needs.
We have never faced any delivery failure and our clients trust us.
For more details check the website https://www.echelonedge.com/