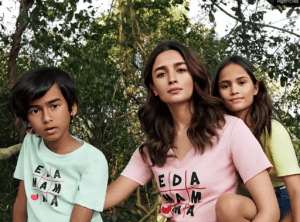 Actress Alia Bhatt, known for her success in the entertainment industry, has also made waves as a thriving businesswoman. Her venture, Ed-a-Mama, aimed at children aged 2–14, has rapidly grown into a remarkable Rs 150 crore brand since its launch in October last year. Bhatt's vision for the brand centers around nurturing children's love for nature, with a belief that they will cherish and care for what they hold dear.
The brand, currently ranked among the top three on Myntra for kidswear, has also gained popularity across major digital marketplaces. Ed-a-Mamma's commitment to sustainability at an affordable price point reflects its mission to foster a conscious generation that cares for the planet. With a vision centered around storytelling and eco-consciousness, the brand aims to leave a positive impact, one product at a time.
On her 30th birthday, Alia Bhatt expressed her pride in the remarkable growth of her business venture. Starting as a small dream, Ed-a-Mamma has swiftly transformed into a 150-crore success within a year. Bhatt acknowledged her formidable team for the achievement and revealed plans to further expand production and unveil an even better spring-summer collection for consumers next year.
Expansion plans
As reported in an interview last year, Ed-a-Mamma was set to broaden its offerings beyond apparel, according to Iffat Jivan, the brand's COO on an interview last year. Their vision is to create a comprehensive shopping world for mothers and kids, starting from maternity products up to age 17. Plans include the launch of a series of storybooks about a young girl's adventures, followed by an animated series. Additionally, the brand is exploring expansion into other categories such as accessories, infant essentials, and safe toys. The pandemic had caused some delays in these plans but now they are moving forward with their exciting new ventures.
Jivan also revealed that Ed-a-Mamma had ambitious plans for expansion, both domestically and internationally. The brand aims to launch in the Middle East and the GCC countries soon, and it will also be available on Amazon in the US. Additionally, they are looking to establish a presence in tier-2 and tier-3 cities through various distribution models, with their own experience centers planned by the end of the year. These centers are designed to provide children with a unique and immersive shopping experience, going beyond just selling products.
Kidswear remains a significant revenue driver for Ed-a-Mamma, and they anticipate the infants' category to contribute around 20-25% to their topline in the coming year. The company's growth has been remarkable, with a staggering 300% year-on-year increase, all achieved without external funding, as it is entirely bootstrapped by Alia Bhatt.
What's new at Ed-a-Mamma?
Reliance Brands, a part of Reliance Retail Ventures Limited (RRVL), is reportedly in the final stages of acquiring Ed-a-Mamma, the kidswear brand promoted by Bollywood actress Alia Bhatt, for an estimated Rs 300-350 crore. The deal would bolster Reliance's children's wear portfolio, which is already witnessing significant growth in India and includes renowned brands like Trends and Indian rights to Mothercare.
Read more: Ritesh Agarwal: The Visionary Dropout Behind OYO's Billion-Dollar Success