Dubai is setting its sights on India's tech talent pool to cultivate a thriving startup ecosystem, a crucial component of its plan to double its Gross Domestic Product (GDP) by 2033. In an exclusive interview, Hadi Badri, the Chief Executive of Economic Development at Dubai's Department of Economy and Tourism, shed light on this ambitious initiative.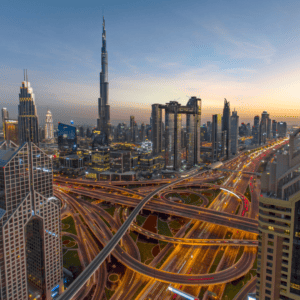 Under the Comprehensive Economic Partnership Agreement (CEPA), a groundbreaking pact involving the UAE and India, there are grand ambitions to boost non-oil trade to $100 billion by 2030, as revealed by officials. In a recent update, it was disclosed that this figure had already reached $50.5 billion in April, highlighting the momentum behind this monumental endeavor.
Dubai: The Distribution Hub
Dubai is actively engaging with Indian manufacturers exploring the emirate's potential as a distribution center. CEPA's provisions pave the way for a staggering trade growth rate exceeding 30%. This mutually beneficial partnership is already shaping the economic landscape of both nations.
The Power of People
Indian companies and entities owned by non-resident Indians contribute to approximately one million jobs in the UAE, according to Dubai Chambers. Hadi Badri, speaking on this significant figure, emphasized the potential for further growth in this regard. He also highlighted the UAE's recent acceptance into the BRICS economic bloc as a milestone that could facilitate deeper economic ties between the UAE and India.
Tech Takes Center Stage
Dubai businesses are increasingly eager to expand their investments in the local economy. A key area of focus is the acquisition of digital talent, including experts in computer science and data science. These tech-savvy entrepreneurs are driving Dubai's burgeoning ecosystem to new heights.
Indian Entrepreneurship in Dubai
Notably, the Dubai Chamber of Commerce boasts a roster of over 83,000 companies of Indian origin, constituting a significant 25% of the chamber's total membership.
Hadi Badri shared that he recently met with a co-founder of Lenskart, a company that has been operating in Dubai for the past two to three years. Lenskart has strategically used Dubai as a launchpad for regional expansion. Badri pointed out that this approach mirrors the strategy adopted by numerous businesses seeking to tap into the Middle East market.
Dubai's Allure for Business
Badri underscored Dubai's attractiveness for businesses, citing key factors such as the allowance of 100% foreign ownership in most economic sectors, a robust network of over 30 free zones, a favorable tax environment, streamlined business procedures, top-tier logistics infrastructure, and its strategic proximity to India. He emphasized that these attributes position Dubai favorably for achieving a substantial non-oil trade volume of $100 billion with India.
Building Bridges with India
Moreover, Badri highlighted the positive outcomes of discussions with various chambers, emphasizing their eagerness to enhance connectivity between India and the UAE. He anticipated potential partnerships and collaborations to emerge from these interactions, noting that Indian business leaders consistently appreciate the business-friendly environment that emirates like Dubai offer.
As Dubai's tech-driven aspirations take flight, it's clear that the synergy between India and the UAE is poised to reshape the economic landscape of both nations. The allure of Dubai, with its forward-looking policies and strategic advantages, presents an enticing proposition for startups, entrepreneurs, and established businesses alike.
Read more: Khatabook Initiates Workforce Reduction Amidst Restructuring