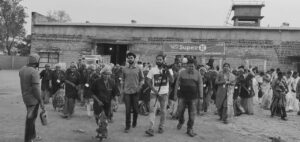 Magic Lantern Studios is an advertising & marketing agency that can help you achieve your marketing goals. The company has worked with clients like Audi, Himalaya, U.S. Polo Assn , Versace, IRA and many more, this list of clients has made it a proven track record of success, and its team of highly profound experts can help you create and execute a video campaign that will resonate with your audience. We take pride in sharing the story of our brand Super K.
SuperK Supermarkets is a rapidly growing supermarket chain in Andhra Pradesh and Telangana. The company was founded in 2019 by two entrepreneurs, Neeraj Menta and Anil Thontepu, with a vision to provide modern retail experiences to customers in tier 3 and beyond towns.
SUPERK's RISE : A RECIPE FOR SUCCESS IN TIER 3 TOWNS
SuperK quickly gained popularity due to its wide selection of products, competitive prices, and convenient location. However, the company soon realised that it needed to do more to boost sales and build trust among potential customers.
TURNING DREAMS INTO REALITY : MAGIC LANTERN STUDIOS STEPS IN
That's when SuperK turned to Magic Lantern Studios, a leading marketing and advertising agency initially for a high budget ad film of around 30 lakhs by including celebrities. However Magic Lantern Studios proposed a testimonial campaign strategy and a captivating documentary film, creating a budget-friendly solution with a strong focus on increasing sales and fostering trust with the target audience.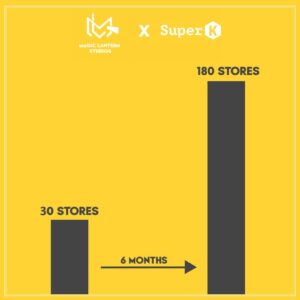 " FROM STORIES TO STORES : HOW SUPERK's CUSTOMER TESTIMONIALS CATAPULTED GROWTH 250X "
The testimonial campaign featured real customers sharing their positive experiences with SuperK. The documentary film took viewers behind the scenes of SuperK, showcasing the company's commitment to quality and customer service. The videos were a huge success. The testimonial campaign generated a significant increase in customer calls, leading SuperK to hire additional telecallers to handle the influx of inquiries. Within just six months, SuperK's store count skyrocketed from 30 to an impressive 150 stores, representing a staggering 250x growth.
ROI GOLDMINE : THE PROFITABLE PARTNERSHIP OF SUPERK & MAGIC LANTERN STUDIOS
The documentary film also had a positive impact. It was viewed by over 1.7 million people on social media, generating a significant increase in customer engagement and footfall. The ROI for the video project was immense. With a budget of 14 lakhs, the expansion of 120 stores at an estimated cost of 8 to 12 lakhs per store showcases a substantial return on investment.
INNOVATION REWARDED : MAGIC LANTERN STUDIOS BLUEPRINT FOR SUPERK's TRIUMPH
SuperK's decision to trust Magic Lantern Studios' creative vision and strategic approach paid off handsomely. The agency's expertise in video production and marketing helped SuperK achieve its growth goals and solidify its position as a trusted and customer-centric supermarket chain.
Here are some of the key takeaways from this case study:
• Authentic testimonials are a powerful way to build trust and credibility with potential customers.
• Compelling storytelling can help businesses connect with their target audience on an emotional level.
• Video is a versatile and effective marketing tool that can be used to reach a wide audience.
• A well-executed video campaign can deliver a significant return on investment.
With this success story Magic Lantern Studios stands still in peculiarly coming up with effective strategies for brands by thoroughly researching and analysing the market for your brand identity, personna and value proposition. Magic Lantern Studios has become one of the best marketing and advertising agencies in India by proving their expertise, strategic approach and creative mindset into cumulatively changing the era of marketing and advertising in the industry.