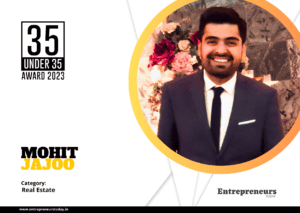 "One of the most memorable and inspiring moments in my entrepreneurial journey was when my project was awarded the Themed Project of the Year. It happened in November 2022 during the 14th Realty+ Excellence Awards 2022, North. The event included renowned developers receiving awards in various categories, many of whom were big names in the real estate sector."
Looking back at his entrepreneurial journey so far, Mohit Jajoo tells us about the most inspiring moment in his career. 
Mohit embarked on his professional journey after completing his graduation in Architecture from Malviya National Institute of Technology, Jaipur. Recognizing the importance of business and economics, he further honed his skills at the prestigious University of Oxford.
After gaining valuable knowledge and insights, Mohit joined the renowned Shubhashish Group, a family business established in 1983 by his father, Mr. J K Jajoo. The Shubhashish Group has grown to become one of the most prestigious organizations in Rajasthan, with a diversified portfolio spanning various sectors.
Building a Legacy
Mohit's inspiration to enter the real estate industry stems from his educational background as an architect and his passion for the field. He had a natural affinity for real estate and recognized the potential for growth and impact in the sector. The transformative events of demonetization and the implementation of the Real Estate (Regulation and Development) Act (RERA) in India further motivated him to explore the industry.
The regulatory changes brought about by demonetization and RERA made the real estate industry more transparent, regulated, and investor-friendly. This environment provided an opportunity for Mohit and his family to enter the real estate market. Initially, he joined the business as the Executive Assistant to his father, allowing him to learn valuable lessons from his experienced mentor.
In 2020, Mohit decided to establish his own real estate startup, Shubhashish Homes, marking a significant milestone in his entrepreneurial journey. His startup aimed not only to make a mark in the industry but also to leave a positive impact on the world. He believes that the future of India lies in uplifting the education sector and generating employment opportunities. 
Mohit asserts, "We differentiate ourselves from our competitors by our core values – spreading happiness, being positive, putting ethics first, promoting innovation, and being nature friendly. To give you an example of putting ethics first, we never do any cash transactions. All our customers need to pay us digitally or via bank instruments. We always try to delight customers and spread happiness in their lives. Our innovation and nature friendliness is evident in our projects which have electric car charging point, smart water meter, high per acre water harvesting pits etc."
Overcoming Roadblocks
One of the main challenges Mohit faced while building his business was ensuring that he had the right people in the organization and that they were in the right positions. To overcome this challenge, he implemented a thoughtfully designed hiring procedure. This included a strategically designed candidate form to gather relevant information from applicants and multiple levels of interviews to thoroughly assess their suitability for the roles. Mohit also implemented a rigorous induction plan for new joiners, providing them with comprehensive training and orientation before they started working on their respective profiles. To monitor and improve performance, the organization conducted quarterly performance reviews. In cases where employees were not performing well or struggling, Mohit made sure they received proper mentoring and training to help them improve their performance.
Keeping up with the trends is another challenge. Mohit says, 
"I regularly follow key individuals and agencies in the real estate industry on social media. I make it a habit to stay informed by reading newspapers and other news sources, particularly those related to the real estate sector. My team and I visit the RERA portal daily to stay updated on the latest and upcoming projects from various real estate companies. Additionally, I frequently conduct competitor analysis both within and outside India. To stay ahead of industry trends and advancements, we have engaged various consultants and advisors who provide us with regular updates. In our weekly meetings, we discuss how we can apply these trends to our business."
Referral Success and Growing Customer Satisfaction
One of the key successes of Shubhashish Homes, led by Mohit, is the high level of customer satisfaction and the significant increase in referrals. They believe that a successful business is one that can delight its customers, and the number of referrals they receive is a testament to their success.
To ensure they received good referrals, Shubhashish Homes implemented a referral program called "The Star Program." This program incentivizes satisfied customers to refer their friends, family, and acquaintances to Shubhashish Homes' projects.
The success of their referral program is evident in the numbers. During the launch of phase 2 in 2022, approximately 5% of bookings came from referrals. In phase 3, which was launched in the same year, the number of referral bookings increased to 12-13%.
The latest figures for phase 4 indicate a remarkable achievement, as approximately 45% of their customers are now coming through referrals.
Work-life balance
Mohit says, "I regularly have local outings with my friends and family after office hours. Every year, I take two big breaks for international trips and two small breaks for local travel within India. I also make it a point to spend quality time with my daughter, Amiya, despite my busy schedule. Additionally, I actively participate in various sessions and events organized by YI, CII, and CREDAI. I also dedicate a few hours to Jagriti. Overall, I am able to effectively balance my personal life and business commitments."
Towards a Bright Future
Shubhashish Homes has a clear vision for the future, aiming to achieve several key milestones. By the end of the financial year 2025-26, they plan to become certified as Great Places to Work for employees, ensuring a positive and fulfilling work environment. They also aspire to be the number one brand in customer delight, focusing on enhancing processes and hiring dedicated staff to exceed customer expectations. Additionally, their goal is to become the first 100% tech-enabled real estate brand by implementing ZOHO across departments. Finally, they aim to expand their projects and become a multi-project company through strategic land acquisitions by the end of the financial year 2023-24. 
Lessons learned
Throughout his journey, Mohit learned some key lessons that have contributed to his success. Firstly, he realized that consistency is crucial for achieving long-term success in business. By consistently delivering quality and maintaining high standards, entrepreneurs can build trust and credibility with their customers and stakeholders.
Mohit also recognized the importance of customer delight and providing a "wow" experience. By focusing on exceeding customer expectations and delivering exceptional service, entrepreneurs can differentiate themselves and build a loyal customer base.
Lastly, Mohit learned that having the right people in the right positions within the organization is essential for success. Hiring talented individuals who are aligned with the company's values and goals can contribute to the overall growth and effectiveness of the business.