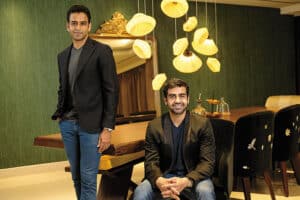 Nithin Kamath, the brains behind Zerodha, has revolutionized the landscape of stock trading in India. Since its inception on August 15, 2010, Zerodha has been on a mission to dismantle the barriers that hinder traders and investors, offering a seamless and affordable platform for their financial pursuits.
Recent strides
As the CEO of Zerodha, Nithin Kamath took to Twitter to share his insights on how a thriving business can be created without relying on external factors. His unconventional approach to entrepreneurship caught the attention of many, leading to him receiving the prestigious "Entrepreneur of the Year" award from Union Finance Minister Nirmala Sitharaman.
In a Twitter post, Nithin Kamath revealed the key elements that set Zerodha apart. The company was built without the traditional business background, pedigree education, or involvement of venture capital/private equity. Notably, Zerodha avoided advertising spending and spamming customers, instead relying on a team of average individuals armed with common sense and a determination to solve a problem.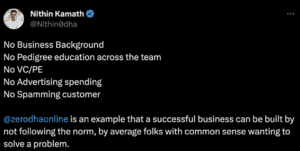 Revolutionizing the Stock Trading Landscape
The name "Zerodha" itself reflects their visionary approach. By combining the concept of "Zero" with "Rodha," the Sanskrit word for barrier, the Kamath brothers encapsulated their commitment to eliminating obstacles that often plagued the Indian trading ecosystem.
Through its disruptive pricing models and cutting-edge technology, Zerodha has achieved remarkable success, emerging as the largest stockbroker in India in terms of active retail clients. With a staggering client base of over 1+ Crore individuals, Zerodha has become the go-to choice for traders and investors across the country.
The impact of Zerodha's innovation and user-centric approach is evident in the sheer volume of daily transactions. Millions of orders are executed through Zerodha's robust investment platforms, accounting for a remarkable 15% of all Indian retail trading volumes.
Empowering Traders and Investors
Not content with revolutionizing the trading industry, Nithin and Nikhil Kamath have gone above and beyond to empower retail traders and investors in India. Alongside their groundbreaking platform, Zerodha, they have pioneered various open online educational and community initiatives that have gained tremendous popularity.
These initiatives serve as a beacon of knowledge, equipping traders and investors with the tools and insights necessary to navigate the complexities of the financial world. By providing accessible and comprehensive educational resources, Zerodha empowers individuals to make informed decisions, elevating the overall trading experience for its vast user base.
Fueling the Future of India's Capital Markets
But Nithin and Nikhil Kamath's dedication to the growth and development of the Indian capital markets doesn't end there. They have also established Rainmatter, a fintech fund, and incubator that actively invests in promising startups within the fintech sector.
Rainmatter acts as a catalyst, nurturing the growth of these innovative fintech ventures and fostering a vibrant ecosystem that fuels the advancement of India's capital markets. By providing crucial support and capital to these startups, Nithin and Nikhil Kamath are actively shaping the future of the financial landscape in India.
More about Nithin Kamath
Nithin Kamath, the visionary force behind Zerodha, embarked on a remarkable journey of entrepreneurship in 2010. Driven by a burning desire to overcome the challenges he encountered during his extensive experience as a trader, Nithin single-handedly bootstrapped and founded Zerodha, forever altering the Indian broking industry.
Nithin's expertise and profound understanding of the market propelled Zerodha to unprecedented heights, establishing it as a dominant player in the industry. His relentless pursuit of excellence and commitment to providing a seamless trading experience have reshaped the way individuals engage with the stock market in India.
Recognized for his invaluable insights and contributions, Nithin Kamath holds esteemed positions within the financial regulatory landscape. As a member of the SEBI Secondary Market Advisory Committee (SMAC) and the Market Data Advisory Committee (MDAC), he actively participates in shaping policies and strategies that drive the growth and development of the Indian capital markets.
Read more: Ankur Warikoo: A Trailblazer in Leadership and Entrepreneurship