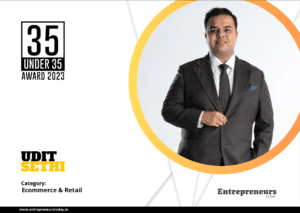 "I travel extensively around the world, keeping abreast of market trends in the retail industry. I attend exhibitions for spirits, wine, and beer across the globe, visit wineries, and participate in exclusive tastings. All these experiences enable me to bring back valuable insights to train my team. Additionally, I continuously enrol in courses related to retail and the spirits business to enhance my product knowledge and deliver the ultimate customer experience in our stores."
As an entrepreneur, this is what Udit Sethi does to keep up with the ever involving market trends. In an email interview with Entrepreneurs Today, he talks more about his journey so far with Hops Cork.  
Hops Cork is a prominent chain of liquor stores in Mumbai, India. With 15 retail locations strategically positioned in prime areas, Hops Cork is known for its expansive reach and continuous expansion plans. The franchise has established valuable partnerships with top global companies in the liquor industry, including Moet Hennessey, Diageo, Pernod Ricard, Bacardi, Heineken, Budweiser, Carlsberg India, and more. These collaborations have contributed significantly, enabling Hops Cork to capture up to an 11% market share of the annual volume sales in Mumbai, Maharashtra.
Hops Cork also has a distinctive Luxury Wine & Beer Boutique that distinguishes itself from standard liquor stores in addition to its chain of stores. This boutique has an excellent range of over 300 wine brands from 14 different nations throughout the world, as well as a large variety of international beers. Wine lovers and beer experts have a variety of options to choose from, each catering to a different taste and desire. In particular, the Wine & Beer Boutique has debuted an exclusive line of homebrewed craft beers under the name Storytellers – a Fine Craft Brew, which is offered for take-out in 1L growlers. 
Hops Cork's focus on customer experiences is one of its distinctive qualities. The franchise takes great care in crafting beverage menus for various occasions, including weddings, corporate events and house parties, as a result of its recognition of the value of collaborations with spirits producers.
Crafting a Legacy
Udit's initial inspiration stems from his family's legacy in the liquor business. The first liquor store in Mumbai was established by his father in 1984. Growing up in this environment, Udit developed a deep understanding and appreciation for the industry. This familial connection and exposure laid the foundation for his future endeavours.
After completing his studies, Udit moved to Edinburgh, Scotland, where he undertook a key learning experience. While he was there, he worked for the IHG Group of Hotels to gather experience and completed an honours degree in beverage control. Udit also had the chance to work as an intern at the Chivas Brothers distillery, which is known for producing high-quality whiskies. He was able to explore the complexities of the alcohol industry through this immersion experience, which stoked his passion and ambition to innovate the established business model.
With his newfound knowledge and experiences from Scotland, Udit returned to Mumbai to modernise the city's current liquor retail sector. He created the retail brand Hops Cork in 2017 and imbued it with his unique ideas and concepts. One of his famous innovations was the opening of a high-end wine and beer boutique that provided clients with an elegant ambience and an immersive upscale environment. The boutique gave Udit a chance to showcase his passion for the industry and bring a fresh perspective to the market.
Crafting Unparalleled Liquor Experiences
When asked about what sets his venture apart from his competitors, Udit says, "Having the utmost consumer experience whether in-store or for delivery across the city with a wide range of domestic and international brands stocking more than 2400 products across categories is where we go a notch above the rest. The in-store experience is elevated with sommeliers and experienced counter sales staff to educate the consumer about new brands, wines and other products to enhance their drink experience. We have our relationship managers interact with private customers through WhatsApp and telephone for events and store pick up."
Udit further shares, "We have a great hierarchy from General Manager to Area Sales Managers to Store Manager to floor Supervisors to manage the end-to-end operation in each of our 15 stores, we operate and monitor via our real-time software which has a centralised system of our daily sale-purchase transactions."
Challenges faced
Udit initially struggled to understand the business's legal requirements and rules, including the dos and don'ts. Because spirits brands and retailers were not allowed to engage in any type of promotion, this presented special marketing challenges. Udit had to work around these limitations and come up with creative strategies to sell the stores and work with brands within legal boundaries.
Making informed choices about long-term alliances with businesses and brands was another key problem Udit faced. Given the restrictions on promotion, it was essential for him to find brands that would support the company's goals and foster a long-term partnership. To make sure that they shared the same vision and principles, this required rigorous consideration and examination of possible partners.
Additionally, Udit personally assumed the duty of instructing and training the staff to improve the customer experience. It was crucial for the staff to be knowledgeable about the products they were working with and to stay on top of the most recent fashion trends given the rising imports of several multinational companies. To ensure that his staff could deliver great customer service and convey the characteristics and benefits of various goods, this role required Udit to put forth a lot of effort and dedication.
Despite the challenges, Udit never gave up. He says,
"We have always strived to be trendsetters in the retail space for liquor, whether it's enhancing the customer experience or adopting modern systems, such as software, and fostering a progressive working environment and company culture. Year after year, we have consistently achieved growth in the industry, meeting volume sales targets and expanding our market share among liquor companies. We are one of the largest volume lifters for global companies across all categories, including Spirits, Wine, and Beer, both domestically and internationally."
What the future holds
While revealing the plans for the company's future, Udit shares, "Once it is officially approved by the Maharashtra Excise and the government, we are eagerly awaiting the opportunity to launch our online delivery service model. We plan to acquire existing licenses and transform them into a franchise model, thereby expanding our reach and providing more touchpoints for end consumers to enjoy the ultimate retail experience."
Founder's note
Finally, let's hear about some of the lessons he has learned since he began his entrepreneurial journey. Udit shares,
"For my business, I approach each day as a fresh opportunity. A customer can walk into any of my stores, and I may have the chance to sell them the most expensive or a rare limited edition bottle available. That's what makes the industry so exciting, and it gives me a daily high to wake up to. With this motivation and energy, I eagerly anticipate what each new day will bring. Monotony is never a concern, as I constantly set and achieve short-term goals. By staying updated with the latest trends, I can bring them to our valued end consumers. I believe in the importance of continuous learning, and the exhilaration of being a trendsetter and generating innovative concepts is unmatched. This mindset keeps me driven and ensures that I never feel discouraged throughout my entrepreneurial journey."