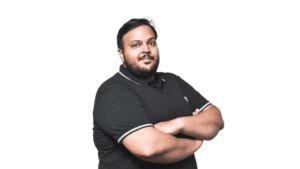 How to automate the majority of customer service protocols?
Rashid Khan, Raghu Ravinutala, and Jaya Kishore Gollareddy together founded Yellow.ai in 2016 tp try and answer this question.
Rashid, the co-founder and chief product officer at Yellow.ai has always been a coder, and was initially roped in by his senior Ravinutala to code AI around chat. Rashid himself was interested  because he felt it would help him make a pathway into social media companies like Facebook.
However, during a discussion between the two of them and their friend Jaya, the focus shifted to customer service, and their company was formed.
Early Days
Christened Yellow Messenger in the beginning,  the interactive chat AI was an innovative element in its early days. Although customer support systems were transforming rapidly, back then it still mostly used pre recorded interventions and prompted button presses to redirect the consumer to the necessary person.
With Yellow.ai, the aim was a Total Customer Experience, and to this effect its voice AI product was unveiled in 2021. Rashid confidently claims that interactive conversational AI, already a household thing with the growing popularity of Alexa, Siri, and Cortana, is a segment of grand growth in the near future.
Impact
Yellow.ai has been quietly but extensively impactful in consumer to business communication systems. They have served cost effective customer service solutions to Bajaj Finserv by building a multilingual virtual assistant called BLU. Waste Connections, based out of USA and Canada was flooded with calls during the pandemic, as being locked at home raised production of waste. Yellow.ai once again came to the rescue, helping the company manage their customer communications efficiently.
As evident, the company and their services has seen a jump in work with the onset of the pandemic, as the majority of customer service conversations have shifted online. Yellow.ai serves over 700 customers across 50 plus countries around the world. The AI is immensely cost effective, reducing 80% of operation expenditure.
It is also a multifaceted system that allows deeper engagement with consumers, a better understanding of their problems, and a rigorous data based calculation of their emotional and consumption needs.
Being monitored through the customer service conversations, and put into patterns of data is a slightly eerie thought. However, from a business perspective, hardly anything can be as beneficent.
No matter how humanlike AI systems may get, they will never replace human beings. But that is not their intention. Instead they are supposed to make the processing system smoother for both ends of spectrum. While a human being is irreplaceable in decision making, analysis of data is far faster through automated systems.
The truth of this belief is vindicated by the trust investors like Lightspeed India have put in Yellow.ai. And of course, Rashid's visionary work has been summarily honoured by his inclusion in Forbes India's 30 under 30 list.
The field of conversational AIs is only just beginning to take off. As we move into an increasingly cyberpunk reality, for better or worse, Rashid and his cohorts have a distinct edge.
Let's see where it takes us.