We were delighted to interview Ms Harsha Bajaj. She delivered youth, charm and knowledge through her words. The glory of being self-made has always instilled in Ms Bajaj so she tried to turn every stone possible to achieve whatever she is today, known to be a space planner, upholstery, fabric and interior related product merchant, she is coming up with a lot more soon!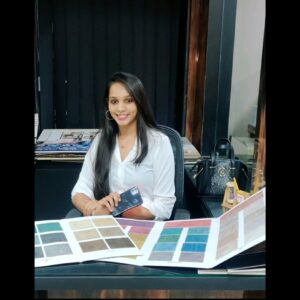 We got to learn that she grasped a lot in her 20s but still claims that there is a long way to go, learn, make mistakes and retake on life. She had her sets of failures, drawbacks, many situational but change being the only constant finally landed where destiny and she dreamt of. Lessons were learnt at every turn but she feels blessed with the most supportive family and near and dear ones.
Harsha
started her Event Styling career at the age of 18 but Covid-19 took a toll on her career and only then her dad bought a new dwelling which had to be designed by her. Since her previous firm was all about decor and styling events so Harsha jumped straight into her house space planning and took everything enthusiastically, learnt a lot, made a lot of mistakes but did it as beautifully as possible, post that she started getting contracts for the same. To bring up the product line for interiors came into picture from there on. Their company now deals in imported marbles, tiles, imported sanitaryware, furnitures and furnishings, headboard padding, wall cladding, curtains, decor items and many more innovative customised deliverables.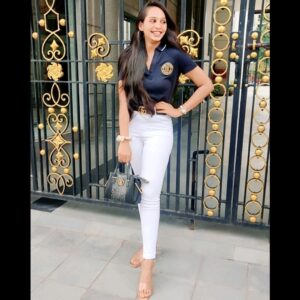 Harsha always had this in her subconscious mind about starting her business, to do something related to this field so she grabbed the opportunity as she got a chance too. Whenever she travelled, be it to a small cafe or a new city, she used to pick pieces/ideas then relate to the field and pictures it.
One might not be aware of her achievements that she shies away from putting out, her leadership skills got her elected as the president of her college's primary fest in the very first year which was record-breaking, she also got a few medals in competitions like basketball, badminton, skit writing, debate, swimming. Off late we were thrilled to hear about her MMA skills.
Coming to business front, she says, "its too early to reach achievements planned but in 6 months we have had over 100 clients and known for the most affordable yet luxurious products in the city of joy".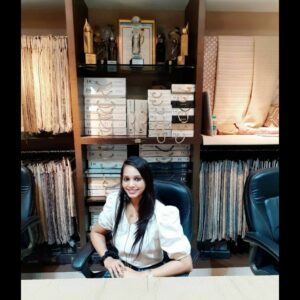 When we asked her about the difficulties she faced during her start up. The excelling
entrepreneur
said, "difficulties drop down everyday, it's most difficult to have the courage to begin the journey, to have the risk taking capacity, but as one proceeds, one jumps hurdles towards success. Practically from managing funds to getting our very first client was the most challenging phase! "
The future she sees is growth for her company and people along with providing the market with products from all across the world at affordable range, add new things to the process of comfort space making, holding exhibition and being a supplier worldwide.
During the interview we also learnt about her secret mantra to success! She used to maintain a journal of her learnings, do SWOT analysis, indepth market survey/feedbacks of the products she was jumping into, used to brainstorm with her friends and family for hours. She has also been mocked at but never give up attitude and believing in her ideas made her reach where she always dreamt of being. They will call you crazy to look at the smallest details but one knows what an entrepreneurial journey is all about!
Harsha Bajaj
says great entrepreneurs have the ability to change, through their leadership and the way they live and work. If successful, their innovations may improve standards of living, and in addition to creating wealth with entrepreneurial ventures, they also create jobs and contribute to a growing economy. So no matter what your age is, do not suffocate yourself with ideas, take baby steps, emerge out and shine with your own color palette.