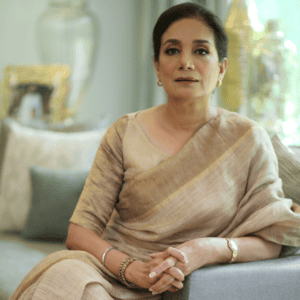 Taking inspiration from Ayurvedic practices and the rich resources of Uttarakhand's Tehri Garhwal region, Mira Kulkarni, the driving force behind India's thriving beauty brand, Forest Essentials, created India's first home-grown luxury skincare range.
At the brand's inception, Kulkarni observed a peculiar trend in the early 2000s – most affluent Indians were importing luxury soaps from abroad. Armed with the knowledge of cold-pressed oil and ghee as the fundamental ingredients, she questioned the absence of such high-quality soaps in India. Spotting an untapped opportunity, she dived in headfirst.
Rising to the Top
Today, Forest Essentials reigns as India's premier luxury skincare and beauty brand, boasting over 80 dedicated stores across the nation. Embracing the essence of Ayurveda and clean beauty, the brand prioritizes fresh and natural ingredients. Kulkarni emphasizes that quality and freshness lie at the heart of the company's ethos, drawing inspiration from India's long-standing tradition of Ayurvedic formulations.
Blending Ancient Knowledge with Modern Appeal
Forest Essentials stands out in the Indian luxury skincare market for successfully creating its own space, surpassing foreign brands' quality and attention to detail. Unlike typical Ayurvedic formulations that lean towards medicinal properties, Forest Essentials skillfully blends ancient knowledge with appealing packaging and user-friendly interfaces. Mira Kulkarni, the visionary behind the brand, aimed to capture Ayurveda's benefits while ensuring a delightful user experience. Through tweaks in formulations, they preserved traditional recipes while enhancing textures for easy absorption and ultimate pleasure during use.
Beyond its captivating aesthetic appeal, Forest Essentials' success lies in its fail-safe formulas, which have been the backbone of the brand. With a vast array of products, it has grown exponentially while staying true to its core values of purity and authenticity. Mira Kulkarni attributes this enduring identity to the brand's continued expansion and recognition as a mainstay in the homegrown beauty and skincare scene. Despite attracting well-intentioned copy-cats, Kulkarni remains unfazed, seeing it as a testament to the brand's undeniable success. As the saying goes, imitation is the sincerest form of flattery, and Forest Essentials continues to shine brightly as a symbol of achievement in the industry.
Going Global
Forest Essentials, the leading Indian luxury skincare brand, has achieved another milestone by expanding its presence internationally with the opening of its first UK store in London. While some brands may struggle to maintain their appeal abroad, Forest Essentials is poised to thrive due to the growing global interest in Ayurveda. For Mira Kulkarni, the brand's founder, this international foray marks a full-circle moment, validating their "Make in India" founding principle and positioning them alongside renowned global counterparts.
Forest Essentials sets itself apart as a standout skincare brand, gaining a dedicated customer base that considers certain products as cult favorites. Mira Kulkarni, the brand's founder, shares her love for the Tejasvi Brightening Emulsion, which features ghee as a key ingredient, embodying the brand's core philosophy. This facial massage balm not only acts as a carrier for Ayurvedic herbs but also epitomizes the brand's focus on practicality and modern consumer needs. With reusable glass packaging and a blend of herbal ingredients, Forest Essentials brings the ancient wisdom of Ayurveda into essential and radiant skincare solutions.
A Promising Future
As Forest Essentials looks towards the future, the brand's potential seems boundless. With over a decade of experience, it has become a seasoned player in the ever-growing market. Mira Kulkarni hints at a major new venture within India but keeps the details under wraps until official announcements later this year. The brand's unwavering commitment lies in crafting products that blend India's rich heritage with pleasure and potency, appealing to the senses. Embodying her grandmother's philosophy, Kulkarni's dedication fuels both herself and the brand, drawing from India's wisdom and her own vision.
Read more: Entrepreneurial Duo: Aadit Palicha and Kaivalya Vohra's Zepto Success Story