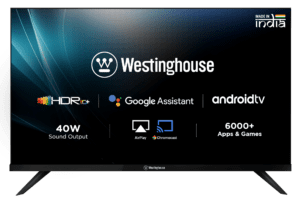 Westinghouse India 
How do you see the big festive demand for high end electronics?
Its certainly exciting times for electronic segment. With more and more people adapting to technology in lives and home, the requirement for better, faster, tech-savvy, future oriented high-end electronics is increasing. The demand hence is on the rise and will continue rising. Experts have also stated that there is a possibility of price rise post festivals and consumer is hence making sure of a pre price hike purchase which is adding to the spike in demand.
Post pandemic will bring in the tremendous increase in entry level products and the high-end product will have no impact?
This electronic segment is now evolving faster than ever. People are seeking convenience and comfort and the consumer electronics are bringing that efficiency to general household. In this process the entry level products and high-end product both segments have a separate set of customers and India is a vast country with every segment widely spread. The high -end product cannot be ignored reason being they bring a sense of trust which for Indian customer is very important.
What strategies have you devised to understand customer behaviour in the current challenging economic environment.
Along with our existing products we have launched products with new features and specs which are being launched in the Great Indian Amazon Sale. This will certainly help us understand feature vs discount pattern. We also keep doing contests and engagements on our social media to understand our customers better and to keep getting their feedback so we can keep up with the market demand.
What is Westinghouse India doing to prepare for future growth?
With presence in 169 countries already we understand that Innovation is the key. Our vision has always been to Innovate with purpose to create meaningful technology products and experiences. With that in mind we have a long terms strategy for India market. As the company who developed the modern power grid over 100 years ago, we strive to improve everyday life with products that bring people together for the moments that matter.
Is Westinghouse India coming up with new product range to strengthen its market position.
We cannot share details yet, but we are in discussion to launch 4 new product categories in 2023.
Westinghouse India strategies to meet the diverse types of consumer demands and expectations.
Our main focus is to bring the 130-year-old American legacy to India in an Affordable Premium segment. Our plan is to become a household name making life better with technology. For that we are primarily depending on data and customers' feedback. We want to understand what sells more, what the customer wants, what's the sweet price point spot to details like how should the discounts and offers be structured, when to run them, sale day, this and many many more detailed demand-oriented product offering can be attained by following the data. It not only gives you a competitive edge but also gives you a way to provide personalised experience and curate better products for your loyal customers. This can certainly go a long way in setting a long-term vision and giving enhanced shopping experience.
Do value growth surpass volume growth this festive season.
Value drives volume. Consumers these days want remote access to their devises. Smart TVs will soon become another Smart Display in the home offering "always listening" features and low-power modes so TVs can become your virtual assistants. These are the features and requirements that bring value to the product and since consumer these days is adapting to latest technology, Value will drive volume. Just in coming few months Indian market will notice demand for a single digital infrastructure that incorporates lights, entertainment, heating, security and appliances that's connected to smart speakers and devices is expected to grow. the number of smart devices is predicted to almost double by 2025, rising to 13.5 billion devices.
Read More: Some Common Challenges That Startups Face