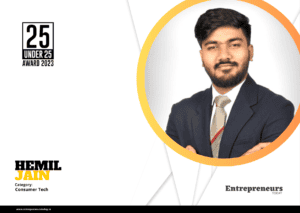 In a world where technology seamlessly integrates into our daily lives, Hemil Jain, a dynamic entrepreneur, is leading the charge in transforming traditional houses into state-of-the-art smart homes. 
Entrepreneurs Today reached out to Hemil Jain, the brains behind a groundbreaking Smart Home technology business, to delve into the transformative impact he is making in the industry.
Entrepreneurial spirit
With a background in commerce and a Master's degree in finance, Hemil Jain has emerged as a visionary in the realm of smart home technology, revolutionizing the way people live in Mumbai. 
Hemil Jain's entrepreneurial journey began two and a half years ago when he embarked on a mission to redefine the concept of home automation. 
Hemil's commitment to excellence led him to obtain a coveted certification from the KNX industry in Brussels, Belgium. Today, Hemil and his team of 20+ highly skilled engineers operate at the forefront of the Smart Home technology industry. 
Inspired by a transformative encounter during his journey toward becoming a Chartered Accountant, Hemil Jain found himself captivated by state-of-the-art technologies that he encountered while traveling three years ago. His eye-opening experience abroad, particularly during a stay at a technologically advanced hotel, sparked a realization of the stark disparity in India's adoption of similar innovations. 
From humble beginnings in a small-sized room project, Jain's vision has steadily blossomed, leading to the transformation of a 25,000-square-foot luxury home and the representation of esteemed international brands. 
About Light & Sound Controls 
Hemil's company, Light & Sound Controls, specializes in providing homeowners with unparalleled convenience through the power of automation. Seamlessly integrating lighting, climate control, entertainment systems, multi-room audio, and security features, their personalized smart home solutions can be controlled effortlessly through a single intuitive app.
With Hemil's technology, homeowners can now take control of their environment from anywhere in the world. Imagine having the ability to turn on or off any light in your house with a simple touch on your smartphone, or even scheduling your favorite playlist to welcome you home after a long day of work. 
This level of control extends to energy-saving measures as well, as the system can be set to automatically turn off the air conditioning in empty rooms, helping to reduce energy consumption and promote sustainability. Additionally, with a simple touch, you can bid goodnight to your home, initiating a series of automated actions that turn off lights, secure the premises, and create a peaceful environment for a good night's sleep.
One of their major achievements was being felicitated by Panasonic, a renowned Japanese company, for successfully accomplishing their overall business goals. This recognition took place at a prestigious event held in Thailand last year.
An edge over the competition
What sets the business apart is its unwavering dedication to staying at the forefront of technological advancements, ensuring that customers are provided with the most up-to-date products and solutions available in the market.
Unlike competitors who may simply move products off the shelves, Hemil Jain's business takes a different approach. Their focus lies in offering comprehensive custom installation services, tailoring each solution to meet the specific needs and preferences of their clients. This commitment to personalization ensures that customers receive the right product, the right solution, and the right service, elevating their living experiences to new heights.
Another distinguishing factor lies in the caliber of technicians employed by Hemil Jain's business. Skilled and certified professionals with extensive expertise in the field ensure that installations and maintenance are carried out to the highest standards.
Furthermore, Hemil Jain's business thrives on differentiation rather than competing solely on price. While the market may be driven by discounts and price wars, this unique venture places a premium on delivering exceptional experiences and value-added services. By identifying a market gap and positioning itself as one of the few players in the industry, Hemil Jain's business has carved a niche for itself, catering to customers seeking quality, innovation, and tailored solutions.
Challenges faced
"In a country like India, where home technology is highly underrated and people lack awareness, the biggest challenge we faced was creating awareness and educating individuals about the benefits of smart home technology. Initially, people were reluctant to invest in high-end smart gadgets, products, and technology."
Staying ahead of the curve has also been a challenge. Hemil revealed,

"We have always been in a continuous learning process and continue to actively engage in it by attending various sessions and webinars. We follow industry standards and practices, constantly seeking to improve and apply them in order to streamline our operations and achieve our goals more effectively."
To overcome these challenges, Hemil Jain implemented several strategies. First, he established a dedicated showroom that provided a comprehensive setup with all the necessary facilities to educate people about smart home technology. This showroom allowed potential customers to have hands-on experiences and gain in-depth knowledge about the products and their capabilities. By offering live demonstrations and personalized guidance, Jain was able to bridge the gap in awareness and showcase the value of smart home solutions.
Through this proactive approach, Hemil Jain's business successfully built trust and credibility among customers. The showroom became a platform for fostering engagement and addressing any concerns or reservations potential customers may have had regarding the investment in high-end smart gadgets and technology.
As a result of these efforts, Hemil Jain's business has achieved remarkable success, completing over 75 luxury residential projects. By providing exceptional education, live experiences, and personalized service, Jain has effectively overcome the initial challenges of awareness and reluctance to invest, driving the adoption of smart home technology in India.
Future looks bright
Looking ahead, Hemil Jain's future plans involve expanding their presence beyond Mumbai and venturing into international markets. They aim to establish a foothold in countries like Singapore, Dubai, Saudi Arabia, and Africa. This expansion will be supported by a significant team expansion, with a goal of growing their team to include over 200 engineers within the next five years. With these ambitious plans, Hemil Jain envisions extending their reach and making a significant impact in the global Smart Home technology industry.
Lessons learned
Through his own experience, Hemil Jain has learned the importance of following one's vision and passion. He emphasizes that staying true to your goals and passions can lead to success. Additionally, he has learned the value of taking calculated risks in life, making well-planned moves to navigate challenges and seize opportunities. This lesson serves as a reminder to aspiring entrepreneurs to trust their instincts, pursue their dreams, and approach risks with careful consideration.