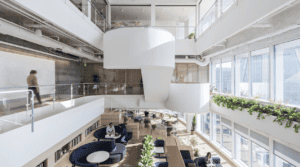 According to recent reports, WeWork, which was backed by SoftBank Group, has filed for bankruptcy. They have reported liabilities of around $10 to $50 billion. The company issued a statement saying,
"WeWork Inc. and certain of its entities filed for protection under Chapter 11 of the US Bankruptcy Code and intend to file recognition proceedings in Canada."
Addressing the recent development, the founder, Adam Neumann said,
"As the co-founder of WeWork who spent a decade building the business with an amazing team of mission-driven people, the company's anticipated bankruptcy filing is disappointing. It has been challenging for me to watch from the sidelines since 2019 as WeWork has failed to take advantage of a product that is more relevant today than ever before. I believe that, with the right strategy and team, a reorganization will enable WeWork to emerge successfully."
However, despite the impediment, the company's franchises outside the US and Canada will hopefully remain unaffected by the bankruptcy filing, as per the company. WeWork India's CEO, Karan Virwani, assured that the Indian business will also remain unaffected.
The company's bankruptcy filing includes a request to cancel leases in specific non-operational locations, granting legal protection from creditors and enabling negotiations with landlords.
About WeWork
The company was founded by Adam Neumann and Miguel McKelvey back in 2010, with the aim of creating a space where companies can come together for their work. Ever since they began their operation in New York, the company expanded to become a global flexible space provider committed to delivering technology-driven flexible solutions, inspiring spaces, and community experiences.
In 2014, Forbes claimed the company to be "the fastest-growing lessee of new office space in New York". In 2019, the company earned a private valuation of $47 billion in early 2019.
What went wrong?
In 2019, the company also had to withdraw its IPO because of the reluctance of the investors and their limited access to loans. In 2020, Sandeep Mathrani became the CEO, and the company went public in 2021 through a SPAC merger but witnessed a declining stock value.
The company has failed to turn a profit since going public in October 2021. As of December 2022, it operated 43.9 million square feet of global office space, with 18.3 million square feet in the US and Canada.
WeWork's shares plummeted approximately 99% in value throughout the year due to pandemic-induced challenges. In March, the company initiated debt reduction measures and extended maturity dates to preserve capital. By June 2023, it had over 700 locations and approximately 730,000 members worldwide.
Facing financial uncertainty in August 2023, WeWork announced cost-cutting measures amid doubts about its continued viability. The departures of CEO Sandeep Mathrani in May and CFO Andre Fernandez in June further compounded the workspace provider's challenges.
Measures to be taken
Currently, the company is trying to prevent further problems and is going to focus on reducing rental costs by next year. They will also be working on lease negotiations, revenue growth, and capital raising over the next year. The company also revealed the replacement of three independent board members with four new members and is actively searching for a permanent CEO.
Read more: Recession-Proof Business Ideas in 2023