Bengaluru-based sportswear startup, Agilitas Sports, has completed an all-cash acquisition of Mochiko Shoes Pvt. The acquisition was spearheaded by Agilitas Sports' co-founders, Abhishek Ganguly, the former managing director of Puma India and Southeast Asia; Atul Bajaj, the outgoing executive director of sales and operations of Puma India; and Amit Prabhu, the former chief financial officer of Puma India.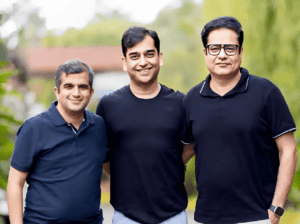 Expanding Agilitas Sports' Portfolio
Agilitas Sports, led by the experienced trio, has made a strategic move to strengthen its position in the sportswear market with this acquisition. Mochiko Shoes Pvt. will now become an integral part of the Agilitas Sports portfolio, further expanding the startup's presence in the industry. This development underscores the company's commitment to growth and innovation in the sportswear sector.
In a significant milestone, Agilitas Sports, co-founded by former Puma India executives earlier this year, has successfully acquired Mochiko Shoes, the country's premier sports footwear manufacturer. This landmark deal, the first for Agilitas since its inception, has not been accompanied by a disclosure of its financial magnitude.
A Vision for "Make in India"
Chief Executive Officer and Co-founder of Agilitas Sports, Abhishek Ganguly, expressed, "Mochiko's manufacturing capabilities, operational excellence, and strategic partnerships with leading global giants position us to address the government's clarion call to 'Make in India', and to cater to the rising aspirations of an economic superpower with the largest youth population."
This acquisition not only solidifies Agilitas Sports' manufacturing capabilities but also sets the stage for the company to play a more prominent role in the sports manufacturing ecosystem. This development comes at a time when there is a surge in demand for sports footwear and apparel, driven by the growing affluent population, a heightened focus on fitness, and vigorous marketing campaigns featuring celebrity endorsements.
In a recent disclosure, Abhishek Ganguly, Chief Executive Officer of Agilitas Sports, highlighted the global interest in ramping up sourcing and manufacturing operations in India. This move is driven by a desire among major footwear companies to enhance proximity to consumers and accelerate their speed-to-market.
"Speed-to-market" refers to the crucial metric of how swiftly a product or service can transition from concept to a market-ready, purchasable item. In today's fiercely competitive and innovative landscape, being the first to introduce a new product or feature offers distinct advantages. As such, the focus on India as a manufacturing hub underscores the industry's commitment to meeting consumer demand swiftly and effectively.
Substantial Investments
Agilitas Sports, which secured funding in May, witnessed investments totaling Rs 400 crore from funds advised by Convergent Finance LLP, led by Harsha Raghavan. Additionally, an infusion of Rs 30 crore was garnered from individual investors.
Impressive Clientele and Growth Projections
Mochiko Shoes boasts a prestigious clientele that includes global sports brands such as Adidas, Puma, New Balance, Skechers, Reebok, Asics, Crocs, Decathlon, Clarks, and US Polo. Founded in 2008 by Virender Awal and a team of five co-founders, the company reported revenues of Rs 642 crore in FY23, with projections indicating growth to Rs 820 crore in the current fiscal year.
Agilitas Sports, upon completing the acquisition, has affirmed its commitment to retaining the entire Mochiko team. Virender Awal, Founder and CEO of Mochiko Shoes Pvt., expressed enthusiasm about the union, stating, "Joining the Agilitas family propels our ambitions. We are now poised to enhance long-term investments, addressing the soaring demand in the sports and athleisure footwear sector. We envision multifold and multifaceted growth in our business over the next 5–6 years."
An additional feather in Mochiko's cap is its distinction as the first sports footwear manufacturer in India to obtain a Bureau of Indian Standards license, a testament to its fully integrated, end-to-end manufacturing capabilities.
Setting Quality Standards
The brand has achieved full compliance with the upcoming quality control orders set forth by the government. In a move aimed at bolstering Make-In-India initiatives, India introduced a mandate in July requiring a Bureau of Indian Standards (BIS) license for the manufacture, import, or sale of footwear within the country.
Mochiko maintains manufacturing facilities in Dehradun and Rishikesh in Uttarakhand, along with an additional facility in Noida. Notably, the company sustains a workforce of nearly 10,000 individuals across its various operations, as per the provided statement.
Read more: Rage Coffee: Brewing Success and Innovation in the Coffee Industry