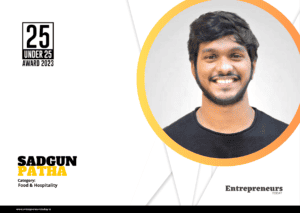 Platform 65, a pioneering force in the restaurant industry, is on a mission to redefine restaurant management in India through its innovative HR model and progressive business strategies. By combining new-age approaches with a deep understanding of the culinary landscape, the restaurant aims to revolutionize the way dining establishments are operated and managed.
In an exclusive interview with Entrepreneurs Today, we had the privilege of conversing with the visionary mind behind the successful venture, Sadgun Patha. We got to delve deeper into his journey and shed light on the inner workings of the venture.
Getting to know Sadgun Patha
Meet Sadgun Patha, a visionary young entrepreneur who has set out to revolutionize the culinary landscape with his passion for food and a unique vision. With a robust background in Business Administration, Mr. Patha combines his business acumen with a deep love for gastronomy, resulting in the creation of a one-of-a-kind toy train-themed restaurant, Platform 65.
Drawing upon his academic prowess, Mr. Patha holds a Master of Business Administration degree from the renowned IPE University. Armed with a solid educational foundation, he seamlessly blends his business acumen with a passion for the hospitality industry, creating an unrivaled dining experience that transcends mere gastronomy.
At the helm of Platform 65, Sadgun Patha has emerged as a trailblazer, propelling the restaurant to unparalleled heights of success. Founded by him, this unique establishment has quickly become a beloved culinary destination, captivating patrons with its distinctive train-themed ambiance and sumptuous offerings.
Driven by his unwavering dedication and entrepreneurial spirit, Sadgun Patha has successfully translated his vision into reality, launching a restaurant that captivates patrons with its distinctive ambiance and delectable offerings. Drawing on his three years of managerial experience in execution and corporate operations, he has steered the company toward profitability, all while maintaining unwavering standards of quality and excellence.
About Platform 65 
"Platform 65 offers a dining experience that transcends the ordinary. While the menu features an enticing selection of multi-cuisine delights, it is the method of delivery that truly sets our establishment apart, captivating crowds and leaving guests in awe."
Upon placing their orders, patrons eagerly await the arrival of their delectable dishes. But what awaits them is not a conventional server carrying a tray; instead, it is a charming mini train that gracefully makes its way to their table. This innovative approach to food delivery adds an element of excitement and spectacle, turning a simple meal into an unforgettable experience.
With its distinctive concept and a wide range of culinary delights, this remarkable restaurant brings together the flavors of continental, Chinese, North Indian, South Indian, Telangana, Andhra Pradesh, and Karnataka cuisines, ensuring there's something to satisfy every palate.
Spanning multiple locations in Telangana, Andhra Pradesh & Karnataka, Platform 65 has become synonymous with extraordinary dining experiences. Its spacious and exquisitely designed establishments boast an impressive total area of over 6500+ square feet, providing ample room to accommodate more than 200+ diners at any given time.
Stepping into Platform 65 is akin to embarking on a train journey, as each table is adorned with mini railway tracks that transport guests into a realm of whimsy. Every table bears the name of a different station, evoking a sense of nostalgia and adventure. From Nizamabad and Kamareddy to Warangal, Hyderabad, Sangareddy, Vijayawada, Tenali, Guntur, Rajamahendravaram, Trivandrum, Ahmedabad, and many more, the station-themed tables enhance the immersive experience.
Whether patrons seek the vibrant flavors of Chinese cuisine or crave the rich spices of North Indian delicacies, Platform 65 caters to their culinary desires with finesse. With the addition of Andhra and Telangana specialties, guests can embark on a gastronomic voyage, savoring diverse dishes that celebrate the region's vibrant food culture.
Achievements so far
Sadgun Patha's culinary venture, Platform65, has garnered an impressive array of achievements, solidifying its position as a trailblazer in the industry. The restaurant has been recognized for its outstanding contributions, receiving numerous prestigious awards. These include accolades such as "Food Delivery Icons of 2023" by TOI, "Emerging Food Start-up of the Year 2023" by Entrepreneur India, "Best Restaurant Chain of the Year" and "Concept Based Restaurant of the Year by HyBiz. 
Additionally, Platform65 has been honored as the "Iconic Theme Restaurant" by The Hospitality Icons, "Best Family Restaurant of the Year" by Franchise India, and "Unique Theme Restaurant" by the Culinary Academy of India during their 25th Anniversary celebrations. The restaurant has also been bestowed with the titles of "Iconic Multicuisine" by Times Food Delivery Icons and "Iconic Concept Restaurant" by The Hospitality Icons. 
Challenges faced
Launching and establishing Platform 65 came with its fair share of challenges for Sadgun Patha. One major hurdle was implementing a service model that seamlessly integrated technology while ensuring a flawless customer experience. The team worked diligently to overcome this obstacle by continuously improving and enhancing the technology involved, incorporating features such as train signals to entertain and engage customers.
However, the most significant setback arrived just a few months after Platform 65's inception. In March 2020, the COVID-19 pandemic hit, leading to nationwide lockdowns and restrictions on dining establishments. This sudden turn of events forced the restaurant to close its doors temporarily, resulting in financial losses and disrupting the brand-building efforts that were underway.
When restrictions eased and Platform 65 could reopen, it faced the daunting task of rebuilding and regaining momentum. The team had to start almost from scratch, reestablishing the brand and rebuilding customer trust. Emphasizing the concept of contactless dining, where the food is delivered directly from the kitchen to the table via the train, helped assure customers of a safe and hygienic experience.
Lessons learned
Throughout his entrepreneurial journey, Sadgun Patha has gained invaluable insights and learned several important lessons. He emphasizes the following key messages for aspiring entrepreneurs:
Be prepared for hard work:

Entrepreneurs must be willing to put in the necessary effort and dedication. Hard work is essential in every aspect of the business, from understanding the technicalities to mastering different roles and responsibilities.

Seek guidance from a mentor:

Having a mentor can provide invaluable experience and insights, allowing entrepreneurs to see the bigger picture and navigate the challenges of running a business more effectively.

Embrace a holistic approach:

It's crucial to view the business from a 360-degree perspective, rather than focusing on limited aspects. Understanding all aspects of the business can lead to better decision-making and smoother operations.

Maintain good relationships with employees:

Building strong relationships with employees fosters a positive work environment and helps the business function smoothly. Investing in employee relations can contribute to long-term success.

Persevere and never give up:

Entrepreneurial life is filled with challenges and unexpected turns. It is essential to remain resilient, continuously strive to overcome obstacles, and never lose sight of the goals.

Seek business incubator sessions:

Participating in business incubator programs and workshops can provide valuable mentorship, networking opportunities, and resources for business planning. These sessions can help entrepreneurs build their brands and gain practical knowledge.
Future plans
Looking towards the future, Sadgun Patha envisions an expansion of Platform 65 that spans across the Indian subcontinent. With over 10 branches already established in Karnataka, Telangana, and Andhra Pradesh, his ambitious plans involve adding several more locations to the esteemed list of Platform 65 destinations. The goal is to ensure that customers from every corner of the country can savor the unique train-themed dining experience that the restaurant offers.
Exciting developments are already in the works, with two additional branches set to open in Bangalore and another in Hyderabad. These expansions will bring the magic of Platform 65 to even more food enthusiasts in these vibrant cities. Moreover, plans are underway to explore opportunities in other countries, signaling an international presence for the brand in the near future.
Looking ahead to the next 2-3 years, Sadgun Patha aims to double the revenue generated by Platform 65, demonstrating his unwavering commitment to growth and success. 
Want to be a part of their immersive dining experience? Reserve a seat today at Platform 65.