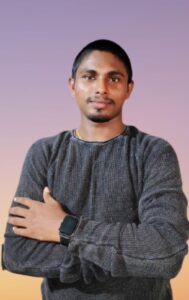 Okaysai –  One of the most important secrets of life that will be more contented is the act of gratitude and being grateful for the things you have in your life. It's so universal to get caught on the continually needing more practice, that we don't stop to welcome the things that we have now.
Take some time to explore the life of Mr Sainath(okaysai). He hails from Khammam, Telangana. He is pursuing his UG degree. He got an amazing 9.2/10 GPA in his school. He is proud son of Mr Veeranna and Mrs Sharadha. He has a younger sister Miss Indu. He belongs to a middle class family and from a tribal community of Telangana. He is just 23 years old but he learnt various skills which will help him to achieve his dreams. He learnt high level computer languages like C and C++. He also has a good knowledge of affiliate marketing business. He learnt everything on his own.
He belongs to a middle class family and as we know that there is always a shortage of funds in a middle class family. The same happened with him. So he decided to do some work to help his family and sustain his expenses. To help his pocket he decided to start some online work. He scrolled through social media and many platforms then he came to know about free affiliate programs of e-commerce websites like Amazon eBay and flipkart. He started his work there because at that time he didn't have enough funds. Slowly he started learning about this business and how it works and after having proper knowledge and research then he realised the potential of this business. He is very active on social platforms like Instagram and YouTube. He is a Youtuber and investor. He also learnt how to grow business via social media and soon he got more than 30k followers on his handle.
He is also aware about the potential of stock market business. So he learnt all the workings of this business and today he is making good money from the stock market too. He earned more than 3.75 lakh rupees from this business in a single month. From which 60k is from referral and 75k is from youtube ad revenue.
He is also educating his followers on YouTube about the stock market. He educates them how to start your stock market journey and what are important skills which are required in this business. And the most important is how to be safe from fraudsters. He regularly posts business strategies and stock market knowledge on his social media.
But everything which he achieved came at a cost. Initially when he started everyone discouraged him. His friends told him that this is fraud and that these types of work are not sustainable. But he stood firmly with his decision and proved everyone wrong. There was a time when he used to work in a hotel for just 6k rupees but today his parents feel proud of him.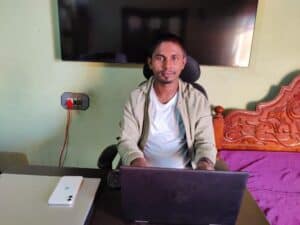 He wanted to help all people learn online skills like digital marketing & affiliate marketing & how to earn money from blog & youtube & freelance from home. He admires Mr Ratan Tata and Mr Ritesh Aggarwal. He wanted to be a successful entrepreneur like Mr Ritesh.
Today he is earning good money and he is planning to invest this money in the stock market to multiply his money. He has a little investment in the FMCG sector and in the banking sector and he is doing great. He wanted to become the top entrepreneur of the country.
He said that everyone should learn some additional skills which will enhance their capabilities to earn money online.
Sainath(okaysai) is a successful digital entrepreneur today and is guiding a lot of people. If you too are entangled in your life, how to find and work on a new opportunity in this great time. You can message Sainath(okaysai) on his Instagram.
You can Reach him on another platforms: Youtube | Twitter | Facebook